Life Outside with Jordy Hewitt
Saatchi Art is proud to present Life Outside, a solo exhibition by Australian artist, Jordy Hewitt. Inspired by the birth of her daughter, Hewitt approached the creation of her works by meditating on the trajectory of her daughter's life and her own through the experience of painting. The emotional presence invoked in the non-representational oil paintings invites viewers to contemplate the meaning of their own lives as they approach the works. The Life Outside series signifies Hewitt's re-emergence into the world after entering the realm of motherhood and displays her psychological evolution as she dwells on the marvels of life.

Based in Perth, Australia, Jordy Hewitt explores the themes of vulnerability, authenticity, intimacy, and beauty through the process of oil painting. Her works seek to provoke an emotional experience that is inspired by her desire to find synthesis and balance with existential concerns, to address catalytic moments and to create and break spells.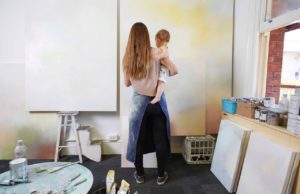 In 2014 Hewitt earned a Bachelor of Fine Art & Design from Perth's Curtin University. Along with her impressive experience in solo and group exhibitions, Jordy has received recognition through various awards including The Hutchins Art Prize, The Whyalla Art Prize, The Agendo Art Prize, and the Mandorla Art Prize. By 2016, Hewitt gained a Commercial Development Grant through the Australian Department of Culture and the Arts, which helped her exhibit at The Other Art Fair in Sydney. In response to her success, she was awarded the People's Choice Prize and sold out of her Pool series. She regularly exhibits throughout Australia and is showcased in numerous private collections around the world.