Introducing Ronnie Wood x The Other Art Fair
"Art fills my life, art is my life and art will continue to be my life."
The Other Art Fair Guest Artist Ronnie Wood tells us about his passions, painting and Rock and Roll and how they contribute to each other.
Throughout his career with The Rolling Stones, the artist and the musician have been inseparable, and as Ronnie's musical career progressed so did his passion for painting and drawing; his subjects ranging from band members and musicians he admired, knew and sometimes played with, to family and close friends – and, of course, the self-portrait. It is as natural to find him with a pencil as with a guitar, drawing portraits of contemporaries and finding inspiration from his musical influences.
Prior to his musical career, Ronnie received formal training at art school in the UK. He has since exhibited widely across the globe with numerous solo exhibitions in North and South America, in the Far East and throughout Europe. Most notably, a retrospective exhibition of Ronnie's works at the Museum of Modern Art, Sao Paulo, Brazil in 1996 and a major exhibition of Ronnie's most prolific artworks in 2010 at the Butler Institute of American Art, U.S.A.
Ronnie says: "For me, art and music are so similar; sometimes putting more time into a song or picture does not necessarily make it better. Having said that, I have gone back to a painting that I started and at the time was unable to finish, but after returning to it, it has worked out fine. Both art and music hold their position in my life. They bounce off one another and make me the person I am. Sometimes I hit a streak that overtakes everything and I just have to paint. Music sometimes calls me and I take the painting with me, and equally it happens in reverse. But more often than not they are both happening at the same time. I paint to music, and sometimes when I'm playing, in my head I'm doing it to a painting." 
Rod, Ronnie, Jeff, Ronnie Wood
Can you talk about the inspiration for your art?
The inspiration for my art has always been with me, it's part of what I've done since I was a small child and my influence through the Italian Renaissance is still with me today: from Rembrandt, The Dutch Masters and through the Impressionists and the Expressionist, right up to today.
What musical influences inspire your practice and what artists and visual culture inspire you most?
I listen to all kinds of music and I'm just starting to get into audio books to.  I find that the original Sherlock Holmes stories are something I can get lost in while I'm doing my painting.  It's a very new thing for me.
Setlist's are part of your practice and your time with the band has clearly influenced your work, were any of the other members of the Rolling Stones interested in painting or drawing?
R – Yes, Charlie is a very accomplished artist, line drawing, he does lots of line drawings which he keeps to himself but one day the world might see them and Keith is a very studious artist, he likes to draw and takes a long time and is very thoughtful about his drawing.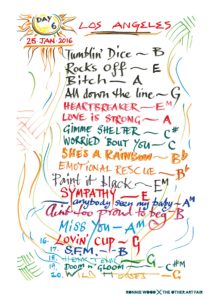 Your work is loud and bold like much of your music, can you talk a bit about your process and how you get to a finished painting?
R – My process is a bit like how a sculptor would work, he sees a shape in the stone and then hacks away the pieces that are not necessary.  I'm a bit like that in negative when I paint, I envisage the impression that I want to leave on the canvas and then just go for it.
What are you working on at the moment?
R – I'm working through my great influences, you may have seen my Picasso Stones recently that I've been experimenting with, I'm very pleased with the way they are turning out and now I'm working on El Greco, Delacroix and Italian Renaissance versions of The Stones in concert, it has to be seen to be believed.
How are you staying inspired?
R- I'm staying inspired by continually being turned on by my art experience over the years and my training as a young lad at school, I still haven't lost it and it's like a new adventure every day in pursuing my art dreams and taking them my way, taking my favorite artists styles and taking it my way, it's a bit like when I take a little riff musically from somebody's song that I may like and take it my own way and like Chuck Berry said 'we ain't doing anything that Mozart hasn't already done' that's in music and in painting we are not doing anything that Michaelangelo hasn't already done.  But the sunshine is inspiring me during these beautiful afternoons to get out and about with my canvas on the lawn and my colors.
To celebrate the launch of The Online Studios, Ronnie has released a series of limited edition prints, 'Pasadena', 'Glastonbury', and 'Keith's Songs', and two set list lithographs to purchase exclusively on The Other Art Fair's online marketplace, alongside many of his old favourite artworks.