Inside the Studio: Serena Singh
Get a glimpse Inside the Studios, a weekly IGTV series where our regional Fair Directors get taken on a personal Live tour around the workspaces and collections of The Other Art Fair exhibitors. Head to our IGTV to watch the interviews in full. 
Serena Singh's work embodies color and texture; each canvas is absorbed in a medley of vibrant tones, complimenting her powerful portrayals of the female and male form. Serena's evolution and development as an artist originated from her passion for boxing, a sport which influenced the subjects then to be featured throughout her artwork. We are thrilled to welcome Serena to The Other Art Fair London later this year, and invite you to enjoy this sneak peak into her studio…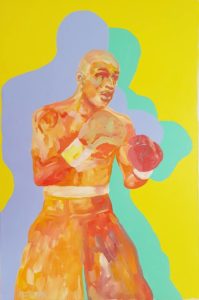 The Fighter, Serena Singh
Tell us about who you are and what you do. How did you first get into painting/drawing?
My story began in Basel, Switzerland where I was born in 1992. Already having a passion for painting as a small child, I drew for hours in my nursery. The heroes of TV such as Dragonball and the human body alongside faces and expressions particularly interested me. I attended Basels Art School and went to Munich (Germany) to study visual and corporate communication because I am also fascinated with branding. Thats why the "SERENA" signature on my paintings looks like a logo ((laughs)). I graduated 3 years ago and since then I have been working as a brand designer and pursuing my practice as an artist as well.
How did your love for boxing influence your practice?
I came to art through boxing. When I was 15 I started training and I competed. When I was 18, I injured my shoulder and had to take a long break. It was in this time that I really found my way to art. I started filling a lot of canvases instead of just drawing on paper. At the beginning I only painted boxers and strong personalities but over time my focus expanded and my art developed. Also, my boxing trainer was a great supporter of my creative projects. He was the first person to call me an artist. He once organized an event where I could show a few paintings and there I sold my first work for a four-figure sum. It was fantastic! That's why my love for boxing will always be strong.
What are the dominant themes that run through your artwork?
The dominant themes in my art are Identity and self-discovery. I take a critical look at the individualism of today's society. The people in my paintings are exploring the relationship to themselves, to other people or to the room in which they are located. They often closed their eyes or looked like they were lost in thought and completely with themselves. Often they are followed by one or more shadows, using the mythological ideas from many cultures, the shadows mimic the reflection of the soul; the "second ego" of man. For me, it also represents the different identities of a person. We become self-proponents not only in our usual lives, but also in virtual life, taking on a multitude of personalities and identities – it is these different identities I aim to show through the colourful shadows.
Self-Portrait, Serena Singh
Who are the subjects captured in your artwork, and why have you chosen to focus on these individuals?
Most of the people in my paintings are multicultural, just like me. I am inspired by different cultures when I paint their facial features, the structure of their hair or the clothes they wear. I am always expanding my collection of photos, pictures from magazines or from social media of various people that inspire me and who I use as models for my paintings.
Your artwork is very distinctive, primarily due to the empowering presence of the subjects and the vibrant colours used. Can you explain why you use this bold colour palette?
The array of colours within my art is inspired by different cultures. As the daughter of an Indian father and a Swiss mother, distant worlds have always interested me. I mix most colours with a base tone of white, providing the paintings with a 'retro look'. It also reinforces the aesthetics of a dream world in which the characters live. It is very natural for me to use these colors, it is purely intuition. I have always been fascinated by bright colors. I am also fascinated by neon colors or shiny materials such as gold. Not only in art but also in fashion. I love traditional clothing and jewelry from different cultures. I want to bring color to the world or at least to people's homes.
Follow The Other Art Fair's regular 'Inside the Studio' series on Instagram with Live talks between Fair Director's and Fair Artists, and shop all Fair artists via the Online Studios.