From the Street Opens at Saatchi Art
Last Thursday night marked a landmark moment for us here at Saatchi Art: the opening of an inaugural show in our headquarters right here in Santa Monica. Curated by Associate Curator Kat Henning and Assistant Curator Jessica McQueen, From the Street features works by 12 Los Angeles-based artists whose work draws upon both street and pop art. Spread throughout the first floor of our offices, the show was packed to the rafters all night long as the Saatchi Art team, artists from our site, and local art enthusiasts mingled over beer and wine. Not only did visitors enjoy the art, but were also quick to snap up several works including Jonas Fisch's stunning work "The Theatricalist." In addition, all of Fabio Coruzzi's contributions to the show have already sold out.
Many thanks to everyone who stopped by and we hope you enjoyed yourselves as much as we enjoyed having you! For those of you who can't make it to see the show in person, feel free to browse all of the works via our website here.
The exhibition is on view from January 22 through March 4, 2016 at Saatchi Art, located at 1655 26th Street, Santa Monica, CA.
Gallery hours: Monday through Friday 10am-5pm and Saturday by appointment. Gallery contact: curator@saatchiart.com.

Visitors admire works by Kelly Puissegur

Artist Isabelle Alford-Lago poses with her signature gorillas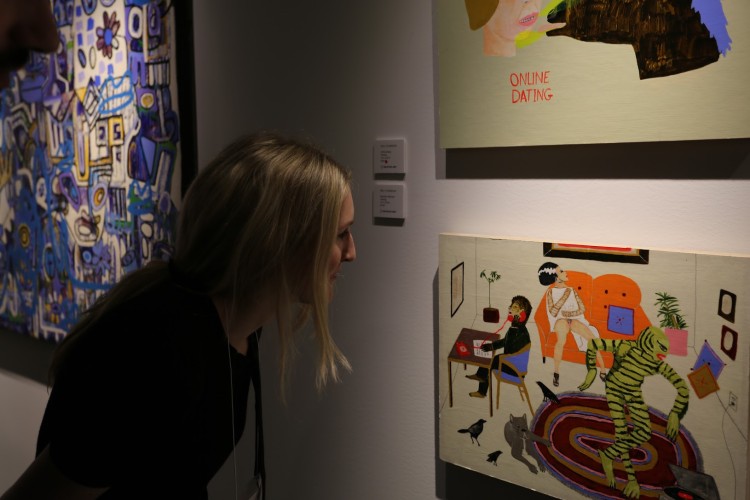 Associate Curator Kat Henning appreciates "Saturday Afternoon" by Kelly Puissegur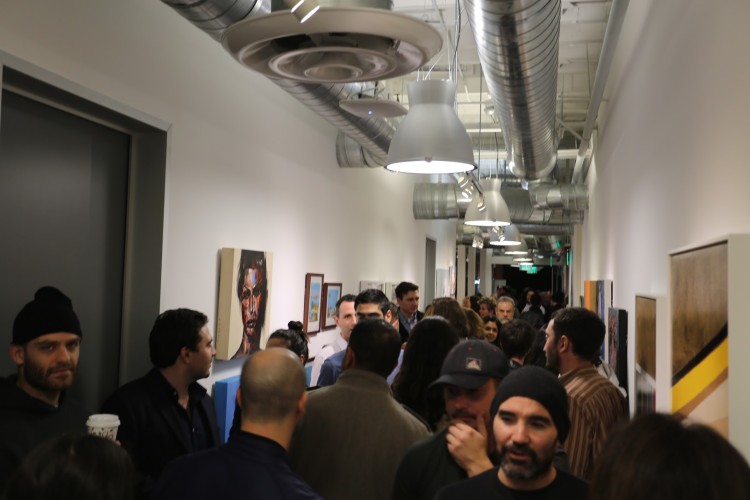 The opening was packed to the brim all night – Thanks to all who came out!