First-Ever Los Angeles Frieze Week
From February 14th to the 17th, Frieze is introducing a new annual contemporary art fair in Los Angeles featuring 70 of the most significant and progressive galleries from across the city and around the world. With an exciting slew of options to explore, Frieze Los Angeles offers a curated program of talks, immersive artist projects and films, alongside pop-ups from creative enterprises, non-profits, magazines, restaurants and bars.
Below we highlight two artists from the upcoming Frieze Los Angeles art fair, as well as, recommend Saatchi Art artists that you may enjoy based on the highlighted Frieze Los Angeles artists. Inspired by the upcoming art fair, browse our Anti-Frieze collection featuring works by Saatchi Art artists.
Discover your next favorite artist at The Other Art Fair, Los Angeles on March 28-31 at the Magic Box at The Reef. Use the code "SaatchiArt" here to receive your complimentary ticket. View the full exhibitor list here on the Saatchi Art website.
Hilary Pecis
View this post on Instagram
Representing the artist run gallery The Pit, Hilary Pecis will present her work "Fruit Bowl" in the upcoming art fair. The vibrant and dynamic acrylic on canvas artwork takes a modern approach to the traditional genre of still life painting. If you enjoyed this contemporary approach to still life, check out "Reboot" by painter Sooyoung Chung.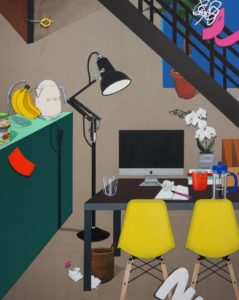 Sooyoung Chung is a UK-based artist, who graduated from Royal College of Art, London, UK with an MA in Painting in 2018 and received her MFA in Painting at Ewha Woman's University, Seoul, South Korea in 2014. She was a finalist for the Griffin Art Award and the HIX Award, and has shown her works in numerous exhibitions, including the Summer Exhibition at the Royal Academy of Art in London and Gallery DOS in Seoul.
Caroline Walker
View this post on Instagram
Caroline Walker is a Scottish artist based in London who will be one of the five artists representing Anat Ebgi Gallery in Frieze Los Angeles. Walker creates figurative large-scale paintings that elicit a seemingly cinematic narrative that is intimate yet enigmatic. Check out Sarah Robert's painting "Now is Forever Lasting" if Walker's figurative work caught your eye.
Sara Roberts is an Australian artist pursuing an MFA in Painting at Sydney College of Arts. She received a Bachelor of Visual Arts with Honours in Printmedia from the College in 2011. Sara has exhibited across Australia, most recently in Retroneers at Chrissie Cotter Gallery in Camperdown. She is currently preparing for an upcoming exhibition, RETRONAUTS, at ANCA Gallery in Canberra, Australia.