Meet the Others: Débayo Desalu
The Game Changers. The Rule Breakers. The Innovators. Discover some of the fantastic emerging talent showcasing their work at The Other Art Fair.
Meet Débayo Desalu, a portrait painter from Lagos who is exhibiting at The Other Art Fair London this March 17-20, 2022. We spoke to Débayo ahead of the Spring Edition to find out more about his practice…
What can audiences visiting the Fair expect from your booth curation?
Playful abstraction, people-centred work, with a focus on the present-tense and an informal vibe. Single figures, almost always Africans, centre-stage, unmistakably feeling what they are feeling in that moment.
I've heard twice from casual viewers that my work made them realise how rarely they've seen Black people in such abstract figurative paintings, and I felt a little wave of happiness both times, because I feel like I'm filling a space. 
But behind the big colours and wild brown lines, there's usually a person in the piece that I hope audiences can feel and relate to.
My paintings do tend to focus on modern settings and situations, often using phones, cities, and other symbols of modernity to ground a piece and its subject in this time – the present. Probably this is because I've spent all my life in the megacities of Lagos, Nigeria, and now London. Nowhere is more focused on the present than in cities.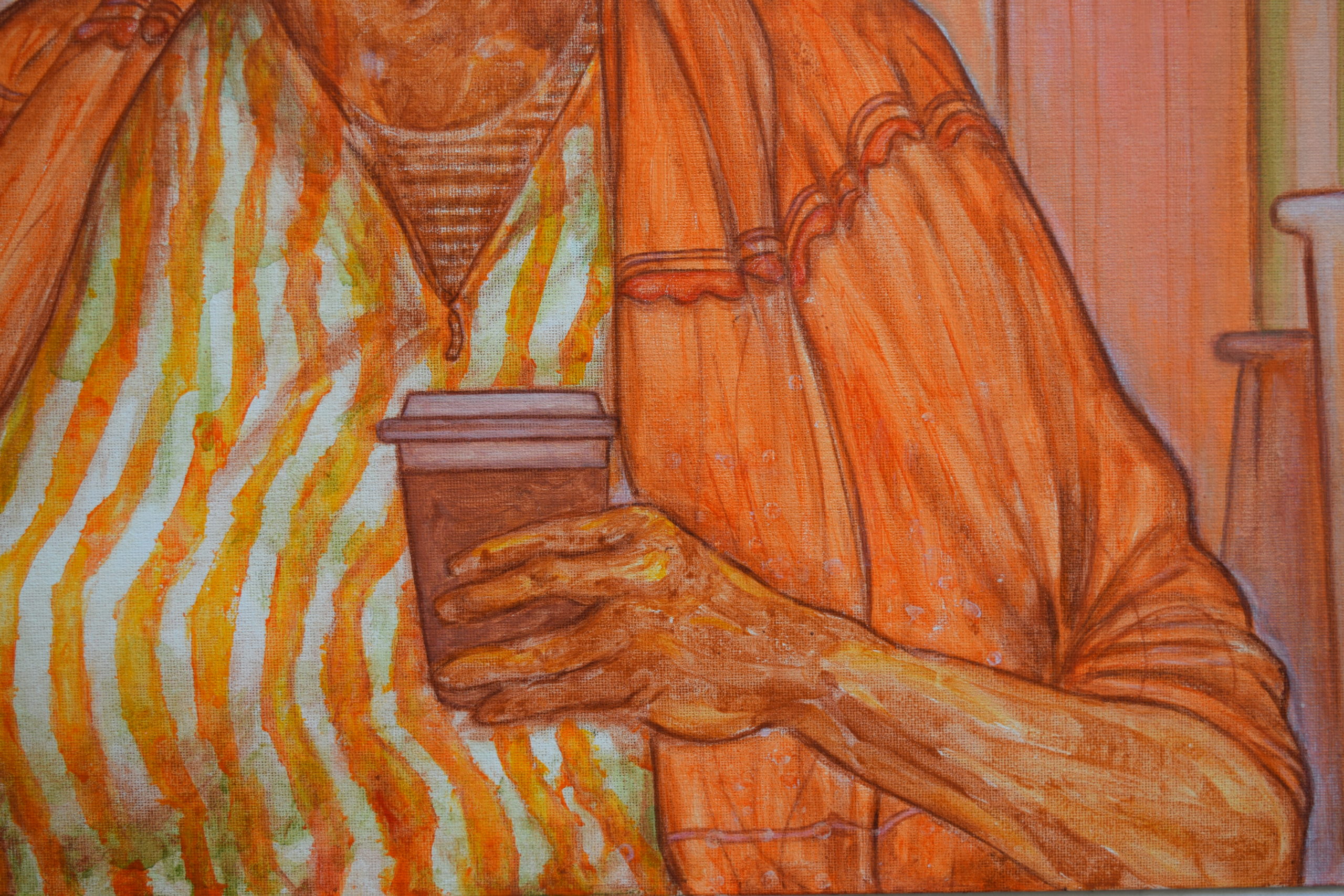 Tell us a little about your process and materials used in creating your artworks…
Strictly, I use only acrylic paints to cover the canvas. How it gets on there however, is fair game. Brushes, fingers, cloth, sandpaper, kitchen sponges, anything unfortunate enough to be within reach. Parts of pieces are painted over, scratched off, poked, prodded. It is a very tactile and instinctive process when I'm at the easel. Sometimes it's a squeeze of the paint tube directly on the canvas, other times it's a drop of paint in a cup of water. Acrylics are undefeated in their versatility! Perfect for the scatterbrained artist. 
I paint like this in bursts then step back to look, frown to zoom in and out, then hold a big breath and dive back in.
I also like to add a bit of 'randomness' in certain pieces; so I'd use tape haphazardly, or let watery paint flow freely to get that energy. 
Finally, removal of paint is a big tool for me. Washing off or scratching off bits of the painting, to add another colour or just leave bare, I feel adds another dimension to the image, and gives me a real freedom as the artist.
If I'm struggling with a piece I really have affection for, then the anxiety/fear of messing it up outweighs the urge to attack it, and I'll take pics on my phone and play with it digitally until it starts to work a bit better.
Who are the subjects featured in your portraiture works?
I'd say 90% of them are based on me emotionally. I think a lot of self-taught artists like myself, as we spent most of our lives making art just for ourselves, we've got into the habit of making works that are all somewhat autobiographical. 
The people whose faces/bodies I've borrowed (stolen) come from all over – Instagram strangers, google images, online shop models, famous people, a few friends. Sometimes I mix a few faces into one to throw people off the scent. But it's always in service of the specific feeling of the piece. 
The subjects are always Black people. This is definitely a conscious choice I've made before every portrait painting. I grew up in Lagos, Nigeria, surrounded by a billion brown faces. The subjects in my portraits all have a piece of me and my life in them. I've been black my whole life, so have most of my family and friends, it's my space and my viewpoint in this world.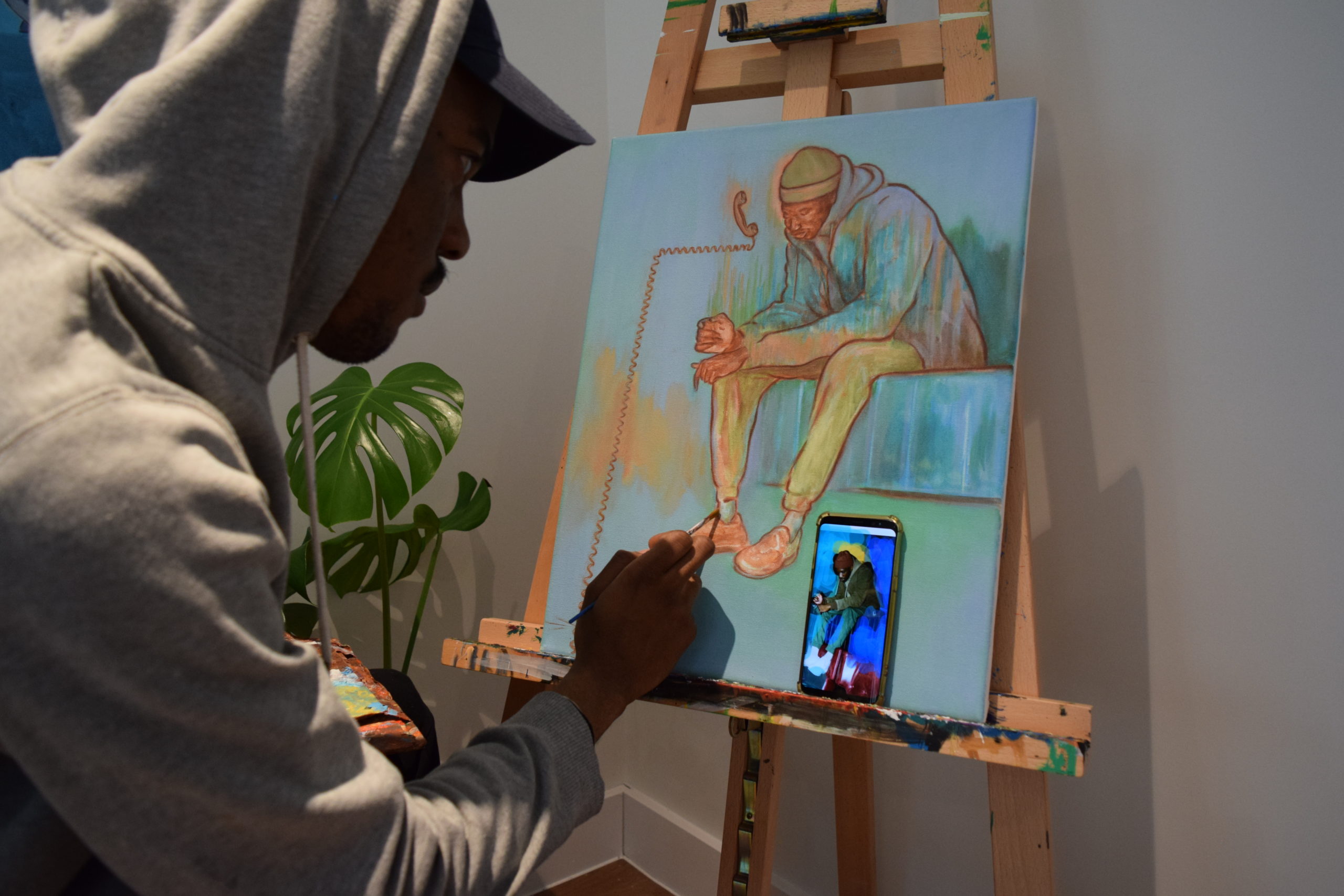 How does an idea develop into an artwork for you?
No real prelim sketches, the first big lines of an idea are always the best so it'll be a shame to have those in a sketchbook rather than on the canvas. 
There's 2 main routes to canvas for the idea. If the 'story' comes to me first then I'm scouring the internet for references and juggling them, if the image comes first then the story reveals itself.
Honestly, I've found I can't fool my inner-artist; he alone holds the reins to my motivation, he calls the shots, and it's got to be a cool visual idea to get him out of bed. As much as I might logically try for a painting that talks about so and so popular topic that I think would get attention, the 'get-up-to-paint' comes from an inner excitement that seems to be too pure to be perverted. It might be a colour combination that I think is beautiful and can't get out of my head, or a great title that I feel I need to make an image for.
End to end, it'll take about 3 weeks for me to make a painting. Strangely, that's not dependent on size or subject either. If I finish a painting in a week, I'll be problem-solving for another 2. 
The end point comes as mysteriously as the idea did. The piece tells you when it's done and it feels painful to work on it any more. Similarly, if a piece is 10%, 50% or 90% finished, it will equally withhold the satisfaction until it's all done!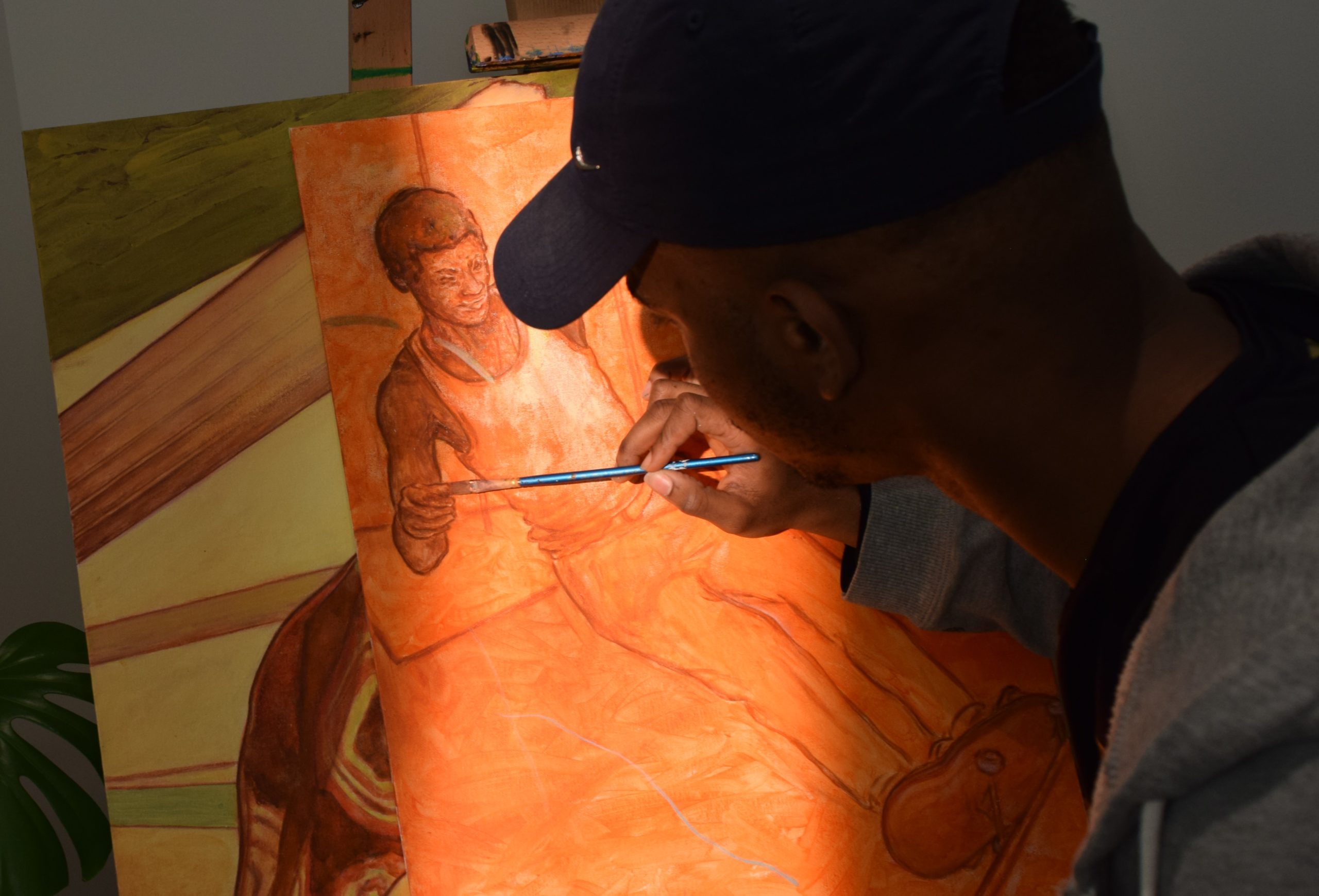 What advice would you give to an aspiring artist?
Aspiring artists, you're already winning at life. You got lucky! Some people look up at the sky, or hear a song, or look over the tops of buildings across a city, or read a poem, and feel nothing! How blessed you already are to be able to feel the joy of art in the world. You feel it so strongly you want to live your whole life with it.
And to be able to make this joy for yourself, in your art practice, you're the lucky few. My advice would be to incubate this personal art power, and deepen it until you can recognise yourself in it, then show it to the world. Because I want to see it!!
There's a desperation that's part of the gig that you must fight against. Be open-minded and allow yourself to be endlessly inspired. Seek out similar artworks and enjoy them. It'll be fine, this is what you love.