Collectors Favorites: Bestselling Artists of March
Ever wondered what other people are buying for their personal art collections? Though your tastes may differ, seeing what others are purchasing can help you discover new artists whose works you might not otherwise have considered. Below, meet 5 artists who have proven to be popular favorites with our collectors.
For more ideas, browse our recently sold works and contact our curators who can help you find similar works in your budget.
Bollee Patino

Florida-based artist Bollee Patino employs a fast-paced approach that infuses acrylic, ink and spray-paint in his graffiti and pop art-influenced paintings. Patino received his Bachelor of Fine Arts degree in graphic design from the International Academy of Design and Technology. Patino held a solo exhibition in District 9 Gallery in Florida, as well as, exhibited at the Fort Worth Community Arts Center in Texas. See more of Bollee's works here.
Bernard Simunovic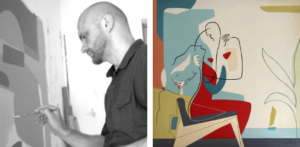 Bernard Simunovic is a Croation born artist and designer, who currently resides and works in Germany. Exploring form and color, Simunovic creates abstract figuratives that are minimalistic, yet sculptural in composition. He received his degree with a focus in Visual Communication and Painting from Bielefeld University in Germany. He has exhibited in solo and group shows in cities around the world including Switzerland, Los Angeles, Brussels, Berlin, Paris, and the United Kingdom. See more of Bernard's works here.
John A. Sargent III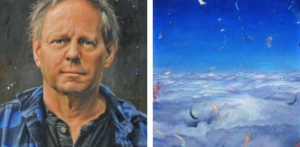 Ohio-based artist John A. Sargent III creates hyperrealistic representations of nature that demonstrates his masterful command of color and light. After receiving his MFA in Painting from Ohio State University, John's impressive portfolio of works has been shown at galleries including OOVAR and the Valley Art Center. He has featured in publications such as the Studio Visit Magazine and the American Art Collector. See more of John's works here.
Alyson Khan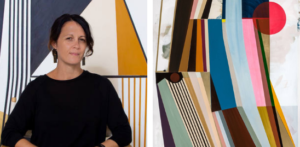 Based in Denver, Alyson Khan obtained her BA from the University of Colorado. Geometric and gestural in nature, Khan's paintings incorporates elements of mid-century design, Art Deco, and tribal objects to create bold and dynamic paintings. Khan has been featured in online and print publications including Luxe Interiors + Design Magazine, Create! Magazine, and Flora || Fauna. Additionally, she has commissioned work for Kalisher, the VAIN Salon, Rattlebrain Theater, and the Metropolitan Gallery, Texas. See more of Alyson's works here.
Taeil Kim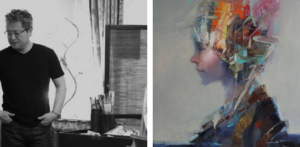 Heavily influenced by the works of Rembrandt and 19th Century Impressionism, South Korean painter Taeil Kim beautifully captures drama and depth within his expressive portraiture and figurative paintings. After receiving his MFA in Fine Art from the Academy of Art University in San Francisco, Kim went on to receive the "Best Buildings" Award from the PleinAir Salon. He has also partaken in numerous solo and group shows across Seoul and San Francisco. See more of Taeil's works here.
Love reading about all things art? You can have articles from Canvas, curated collections, and stories about emerging artists delivered straight to your inbox. Sign up for the Saatchi Art Newsletter.