Collector Favorites: Bestselling Artists of November
Ever wondered what other people are buying for their personal art collections? Though your tastes may differ, seeing what others are purchasing can help you discover new artists whose works you might not otherwise have considered.
Below, meet 5 artists who have proven to be popular favorites with our collectors. For more ideas, browse our recently sold works and contact our curators who can help you find similar works in your budget.
Fei Alexeli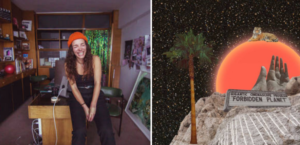 Greek artist Fei Alexeli's otherworldly digital collages take cues from space-age design and the sun-worshipping cultural landscape of the American Southwest. Awash in saturated hues, Fei's juxtapositions of Americana and outer space leave viewers lost in vivid daydreams of pink oceans and drive-in theaters on the moon. Fei studied architecture at Oxford Brookes University in England before pursuing her passion for digital art. In 2017, Fei was featured in the book Making the Cut: The World's Best Collage Artists. A frequent exhibitor at the Other Art Fair, Fei has shown her work at the New York, London, and Los Angeles fairs. See more of Fei's work here. 
Anna Hymas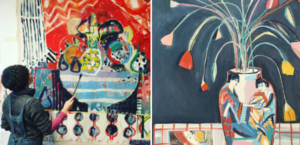 London-based artist Anna Hymas works across mediums including painting, textiles, and ceramics to make colorful works informed by Chinoiserie and Fauvist color palettes. A graduate of Central St. Martins College of Art and Design in London, Anna has exhibited her work in New York, Glasgow, Paris and London, including at the Royal Academy's Summer Exhibition. She has designed bespoke rugs for Loomah, and was commissioned by London Underground to create posters for display throughout the tube. In addition to her fine art practice, Anna also writes and illustrates children's books. See more of Anna's work here. 
Zin Lim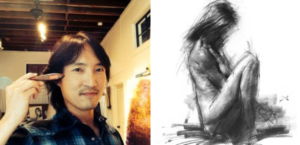 Born in Seoul, Zin Lim studied industrial design before moving to San Francisco to study 3D animation. Zin's rigorous design background lends itself to his figure drawings, in which rapid mark making yields remarkable presence and definition. From his education in design, Lim went on to earn an MFA with distinction from the Academy of Art University in San Francisco. He now teaches painting and drawing both at the Academy and via online tutorials. Zin has won numerous awards for his figurative paintings and drawings, and his work is held in private collections around the world. See more of Zin's work here. 
Christy Powers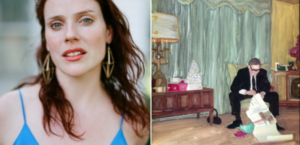 Coming from a family that has worked in the photo processing industry for over 75 years, it's no wonder that Christy Powers uses her painting practice to pay homage to the memories embodied by a photo. Having inherited thousands of family photos, Christy bases each of her paintings on a photograph, working with wet-on-wet watercolor and acrylic to create a dreamlike interpretation of the original image. Lovingly rendered, Christy's paintings are captivating in both their specificity and universality. 
Christy earned her MA with Distinction in Painting from the College of Fine Arts at the University of New South Wales. Now based in Elmhurst, New York, Christy exhibits regularly across New York, the United States and Europe. See more of Christy's work here. 
Michiel Folkiers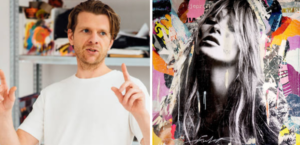 Inspired by the skateboarding and street art cultures in his hometown of Zeist, Netherlands, Michiel Folkiers took to graffiti at an early age, a practice he gradually took to the canvas. Now Michiel is acclaimed for his mixed-media collage and stencil portraits of pop culture icons. Still very much informed by art on the streets, Michiel searches the walls of Amsterdam for worn and outdated wheat-paste posters to reuse as collage materials, introducing a sustainable and edgy element to his works. Based in Amsterdam, Michiel has exhibited his work throughout the US and Europe. See more of Michiel's work here.
Love reading about all things art? You can have articles from Canvas, curated collections, and stories about emerging artists delivered straight to your inbox. Sign up for the Saatchi Art Newsletter.