Collector Favorites: Bestselling Artists of May
Ever wondered what other people are buying for their personal art collections? Though your tastes may differ, seeing what others are purchasing can help you discover new artists whose works you might not otherwise have considered.
Below, meet 5 artists who have proven to be popular favorites with our collectors. For more ideas, browse our recently sold works and contact our curators who can help you find similar works in your budget.
Daniel Pérez
Working in the traditional materials of marble, bronze, and wood, Daniel Pérez sculpts fragments of human faces with a naturalism that is difficult to rival. Daniel takes his raw materials and makes them come alive with human softness and authenticity. His work is available in a wide range of sizes, from tabletop to colossal outdoor sculptures. Daniel earned his bachelor's and master's degrees in Fine Art and Artistic Production at the Universitat Politècnica de València, Spain. His diverse international experience has brought him to an artist residency in Vietnam, as well as repeated participation in the International Sculpture Symposium in Africa, Asia, Europe, and South America. See more of Daniel's work here. 
Elizabeth Elkin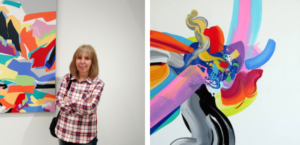 Elizabeth Elkin is an artist of a variety of styles. Some paintings are composed of neon and broad, glowing brush strokes; others are faux-collage, abstract paintings inspired by nature; still, others are painterly, impressionistic scenes of mountains, forests, oceans, and villages. A commonality among this prolific painter's work is her use of bold, pleasant hues that span the full spectrum of color. With over 30 years of experience, Elizabeth has had the pleasure of exhibiting her paintings frequently throughout North America. See more of Elizabeth's work here. 
Cody Choi
Photographer Cody Choi began his creative career as a dancer studying in Hong Kong, and later London. While touring and dancing for three years in Matthew Bourne's Swan Lake, he took the opportunity to photograph his fellow dancers and their surroundings as he traveled the world. This formative experience inspires his work today, which features dancers and other athletes twirling and jumping before abstract backgrounds and urban landscapes, their hair and clothing flowing in sync. Cody's work has been shown in the UK and throughout Asia. See more of Cody's work here. 
Davide Cambria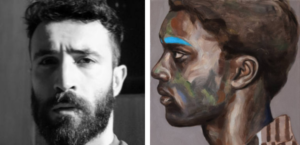 Born in Messina, Italy, Davide Cambria is a self-taught artist now living and working in London. As a figurative painter, Davide delves into human psychology through his thoughtful paintings. Primarily working in muted colors, Davide often highlights or omits key features on his models' faces to unique effect. With a background in architecture, Davide creates distorted and sparse picture planes that draw our focus to the interiority of his subjects. Of his mysterious and nuanced tableaux, Davide says, "my paintings are fragments of an abstract narrative, not representations of specific people. I'm interested in ambiguity and vagueness." See more of Davide's work here.
Misako Chida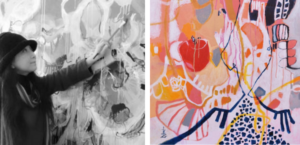 Misako Chida's colorful abstracts are delightfully ebullient, and beloved for their ability to brighten a room. Her paintings are anchored by broad, gestural brushstrokes and expressive paint drips, which are balanced with fine details and rhythmic patterns. With a formal interest in the purity of colors and creating dynamic, flowing compositions, Misako is a constant experimenter. Misako was born in Yokohama, Japan, and is now based in Dalian, China, where she has the pleasure of exhibiting frequently and painting everyday. See more of Misako's work here. 
Love reading about all things art? You can have articles from Canvas, curated collections, and stories about emerging artists delivered straight to your inbox. Sign up for the Saatchi Art Newsletter.