Collector Favorites: Bestselling Artists of August
Ever wondered what other people are buying for their personal art collections? Though your tastes may differ, seeing what others are purchasing can help you discover new artists whose works you might not otherwise have considered.
Below, meet 5 artists who have proven to be popular favorites with our collectors. For more ideas, browse our recently sold works and contact our curators who can help you find similar works in your budget.
Nicole Melnicky
Nicole Melnicky emphasizes the fluidity of paint in her abstract works to explore the idea of queer subconscious space, and optimism for a positive, welcoming future for the queer community—in other words, a utopia. Her works thus become futuristic landscapes suggestive of such a utopia. She often paints in a series, making her work ideal for grouping together.
Nicole earned her MFA from Ontario College of Art & Design University in 2021 and her BFA from Moore College of Art & Design in 2015. In 2019 and 2020, Nicole participated in five residency programs: Studio H Canada, The Ou Gallery in British Columbia, Otis College of Art and Design in Los Angeles, Contingencies of Care in Toronto, and the Vermont Studio Center. She will have her first solo exhibition at Xchanges Gallery in Victoria, British Columbia, in 2022.  See more of Nicole's work here.
Margreet Zwetsloot
Mostly working in a gray-scale palette, Margreet Zwetsloot's restrained use of color allows her ceramic pieces' rich surface textures and delicate lines to shine. She uses ships, flags, houses, and most recently celestial bodies as recurring motifs in her delicate sculptures. Graceful, not-quite-regular patterns often contribute to the composition, or other times make up the entirety of an abstract piece. Her draws inspiration from her nostalgia for her childhood by the Northern Sea of the Netherlands, as well as a long-held interest in astronomy.
Margreet studied at the Academy of Fine Arts Utrecht, Amersfoort, and Enschede. Her work is held in several public collections in Northern Europe, and her work has been exhibited regularly throughout Europe since the early 1980s. See more of Margreet's work here. 
Sanghee Ahn
Korean painter Sanghee Ahn paints continually evolving series of surrealist works, finding delight and joy in everyday objects and symbols—heart-shaped fruit, still life vegetables, popsicles, cakes, flowers, and most recently, clouds.  Her style is constant in its delicate, smooth application of paint and random, non-hierarchical compositions that echo our mental processing of symbols and images in day to day life. 
Sanghee earned her BFA from the Ruskin School of Drawing and Fine Art at the University of Oxford. She has had several solo exhibitions in South Korea, as well as many international group exhibitions, including at the Korean Cultural Center in Los Angeles, GlogauAIR in Berlin, and Modern Art Oxford in the UK. Her paintings are part of public collections at the Korean Consul General Residence in Houston, Art Space LOO in Seoul, and the National Museum of Modern and Contemporary Art in South Korea. See more of Sanghee's work here. 
Suren Nersisyan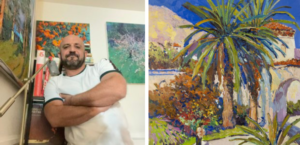 Landscape painter Suren Nersisyan recalls Impressionism in his subject matter, his attention to natural light, and his expressive brushstrokes. His work is often thick with impasto, the texture of which causes his paintings to shimmer. His oil paintings are often completed en plein air, just as the avant-garde forerunners of Impressionism and Post-Impressionism painted. 
Suren holds two MFA degrees from the Armenian State Pedagogical University and Northern Illinois University in addition to a Ph.D. in Art Teaching Methods also from the Armenian State Pedagogical University. His work has been exhibited throughout Europe and the US, and his work is housed in collections in China, France, Germany, Russia, Singapore, the United Arab Emirates, the UK, and the US. See more of Suren's work here.
Kaoru Shibuta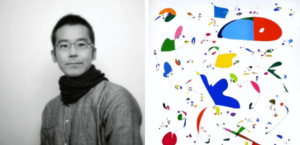 Following in the footsteps of Wassily Kandinsky, Kaoru Shibuta's paintings are lyrical abstractions. Kaoru cites synesthesia as the inspiration for his musically-inspired visual work. With thin, delicately outlined shapes painted in a kaleidoscope of colors, his paintings and drawings exude energy and playfulness. Ranging from small to oversized, Kaoru's paintings fit in any space.
His work has been exhibited throughout the world, including in South America, Europe, East Asia, and North America. He was an artist in residence for the BASU Foundation in India in 2021, the Cassis Artist Residency in France in 2019, and the Chander Haat Residency in Kolkata in 2018. See more of Kaoru's work here.
Love reading about all things art? You can have articles from Canvas, curated collections, and stories about emerging artists delivered straight to your inbox. Sign up for the Saatchi Art Newsletter.