Collector Favorites: Bestselling Artists of August
Ever wondered what other people are buying for their personal art collections? Though your tastes may differ, seeing what others are purchasing can help you discover new artists whose works you might not otherwise have considered.
Below, meet 5 artists who have proven to be popular favorites with our collectors. For more ideas, browse our recently sold works and contact our curators who can help you find similar works in your budget.
Alice de Miramon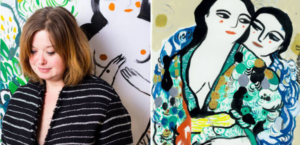 Influenced by old books, poetry by the likes of Cocteau and Baudelaire, as well as orientalist styles, French artist Alice de Miramon's illustrative paintings portray a romanticized view of femininity. Alice has exhibited internationally over the last few years, including at the Tokyo International Art Fair 2019, The Other Art Fair London, and Cubik Gallery in Montpellier. See more of Alice's work here.
Yeachin Tsai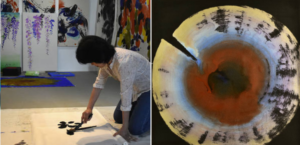 Trained in traditional brush painting and calligraphy from a young age in her native Taiwan, Yeachin Tsai's paintings embrace playful and interactive energy through abstracted colorful forms. She received her MFA from Brooklyn College and has participated in exhibitions at The Hyde Collection, Pause Gallery, and has work featured at the Bellagio Hotel in Las Vegas. See more of Yeachin's work here.
Eddie Love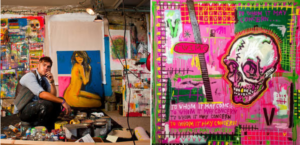 American artist Eddie Love's flashy paintings are inspired by modern-day imagery, culture, and street art. He has participated in a number of exhibitions in Arkansas and other parts of the South. See more of Eddie's work here.
Kenneth Hart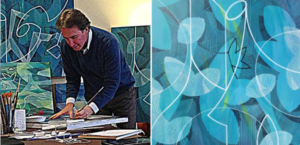 A professional architect by day, artist Kenneth Hart uses the visual arts as an outlet in order to express his passion for nature and the design elements he was exposed to in his native Detroit. The result is a marriage of green-hued shades immersed in geometric patterns. See more of Kenneth's work here.
Tiffany Blaise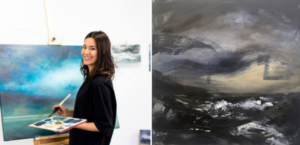 Tiffany Blaise is a Canadian artist fascinated with capturing emotionally charged landscapes through her preferred medium of oil on canvas. After studying at Concordia University in Montreal, she has been regularly participating in exhibitions in her local West Vancouver. See more of Tiffany's work here.