Celebrating Art Basel: Hong Kong, Kicking Off March 24th
Although Art Basel has been around since 1970, the Hong Kong outpost of the famed art fair is brand new to the scene, having been around only since 2013. To celebrate their third year in Asia, we've put together a collection of original art by Saatchi Art artists from China, Japan, and Korea to get you prepared for the incredible event that is Art Basel Hong Kong.
While the show – running from March 24th- March 26th – will feature artists from all over the world, the spotlight is undoubtedly on Asian and Asian Pacific artists who will represent over half of displayed work. According to Art Basel's website, "The show provides an in-depth overview of the region's diversity through both historical material and cutting-edge works by leading and emerging artists."
To organize the viewing experience, Art Basel has chosen to break the experience up into six "sectors": Galleries, Insights, Discoveries, Encounters, Film, and Magazines. The Galleries sector will present 20th and 21st century artworks from almost 200 galleries including paintings, sculptures, drawings, installations, photographs, film, video and digital artworks. Insights will feature works by artists in the Asia and Asia Pacific regions in solo shows as well as art historical and themed exhibitions.

The Galleries sector will feature modern and contemporary artists from around the world. (Image: Art Basel)
Meanwhile, the Discoveries sector is extremely exciting to us here at Saatchi Art as it showcases art by a new generation of emerging artists.

A still from Chinese visual artist, Wu Tsang's "Duilian" in which the artist explores the intimate relationship between two women from Chinese history: the revolutionary poet Qiu Jin and calligrapher Wu Zhiying. Tsang will be exhibiting in the Discoveries sector. (Image: Creative Capitol Blog)
Also enticing is the Encounters sector which presents sculpture and installation works that require a more immersive experience than a traditional booth. The Films sector will debut 72 art films by 64 artists with screenings beginning on March 21st and running until March 26th at the Hong Kong Convention and Exhibition Centre and the Hong Kong Arts Centre. Last, but certainly not least, the Magazines sector will feature prominent publications in the arts, the editors of which will be speaking at various lectures throughout the fair.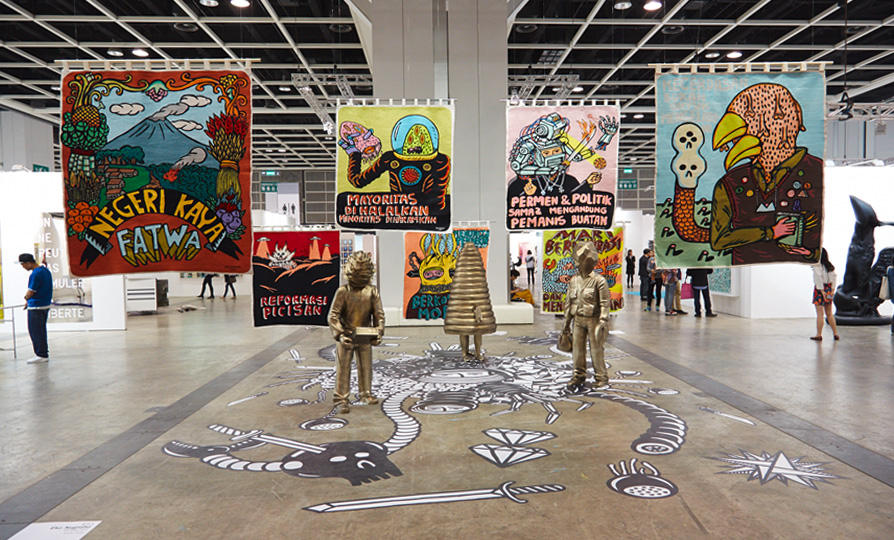 The Encounters sector will feature immersive art environments for visitors to explore. (Image: Art Basel)
If you're lucky enough to be prepping for a trip to Hong Kong for 2016 Art Basel, be sure to check out Architectural Digest's list of great places to stay, eat, and visit.
Get prepped for the stunning, original art you'll be seeing at Art Basel Hong Kong by checking out our gorgeous collection of works by artists from China, Japan, and Korea.