Collector Favorites: Bestselling Artists of February
Ever wondered what other people are buying for their personal art collections? Though your tastes may differ, seeing what others are purchasing can help you discover new artists whose works you might not otherwise have considered.
Below, meet 5 artists who have proven to be popular favorites with our collectors. For more ideas, browse our recently sold works and contact our curators who can help you find similar works in your budget.
Michelle Louis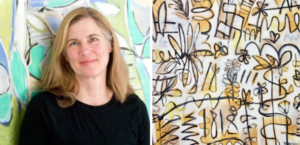 Wisconsin-based painter Michelle Louis describes herself as an "artist and naturalist deeply connected to place," who uses painting to "cultivate connection to the land and honor [her] kinship to the natural world." Often working on a large scale, Michelle lets her energetic compositions emerge organically, resulting in lively, abstracted musings on nature that capture the flow of natural processes and patterns. Michelle has completed numerous artist residencies in Costa Rica, Mexico, and Spain. She was selected as one of 100 artists to display her work in the National Parks Centennial Exhibition in 2016, and her work is held in collections throughout the US and Europe. See more of Michelle's work here. 
James Roper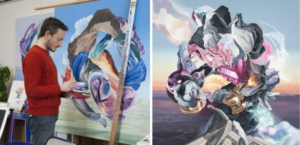 Based on real photographs recombined and distorted into semi-abstract compositions, James Roper's oil paintings play with our instinct to search for recognizable images even when there are none, leaving the viewer in a perceptual state of flux. Ever challenging himself to perceive the world in a new way, whether through spirituality or psychedelics, James has created a singular painting practice that incisively captures the psychology of seeing. James holds a BA (Hons) in Fine Art from the Manchester School of Art. He has exhibited his work internationally, with solo shows in New York, London, San Francisco, Barcelona, and Milan. Alongside his fine art practice, James has also worked as a commercial illustrator for brands including Nike, Converse, and Adobe. See more of James' work here. 
Cristina Figarola 
Cristina Figarola is known for her totemic ceramic sculptures, which in their rhythm and varied texture recall the sensibilities of Post-Minimalism. With a background in lamp and lighting design, including the award-winning Totora lamp, which was released in 2003 to international popularity, Cristina is attuned to craftsmanship and materials. In her ceramic practice, Cristina explores her own background in utilitarian design, as well the ceramic medium's traditional functional use, to transform the material into playful, unexpected vertical forms. Cristina is based in Barcelona, and studied fine arts at the University of Castilla – La Mancha in Ciudad Real, Spain. Her work is held in private collections throughout the US, Europe, and East Asia. See more of Cristina's work here. 
Luciano Cian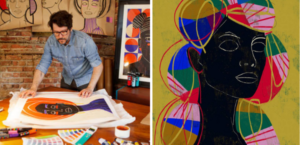 With a background in painting, Brazilian artist Luciano Cian integrates photography, digital art, and street art into his fine art practice. In 2008 he founded the award-winning street art and installation team Fuso Colectivo, which explores politics and social issues through multimedia works. His portraiture series draws on Brazilian modernist art and architecture, using bold color and shape to bring his subjects to life. Luciano has exhibited his work in exhibitions around the world, including in Geneva, Switzerland; São Paulo, Brazil; and Rio de Janeiro, where he is based. See more of Luciano's work here.
Jeremy Prim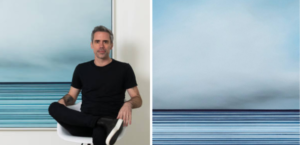 Painter Jeremy Prim captures the sublimity and peacefulness of the ocean in his meditative paintings. Pared down to minimalist forms, Jeremy's abstract seascapes immerse viewers in the rhythm and solitude of quiet coastlines. Based in Seattle, Jeremy draws on the dramatic gray skies and expansiveness of the Pacific Coast in his painting practice. Jeremy has exhibited his work extensively in galleries in Seattle and Los Angeles, including at The Other Art Fair, and his work is held in private collections throughout the US and Europe. See more of Jeremy's work here. 
Love reading about all things art? You can have articles from Canvas, curated collections, and stories about emerging artists delivered straight to your inbox. Sign up for the Saatchi Art Newsletter.