7 Things To Know This Week In Art
Our recap of what's happening this week at Saatchi Art, online, and around the world.
#1: Street Artists are Given Walls to Create in Annual Festival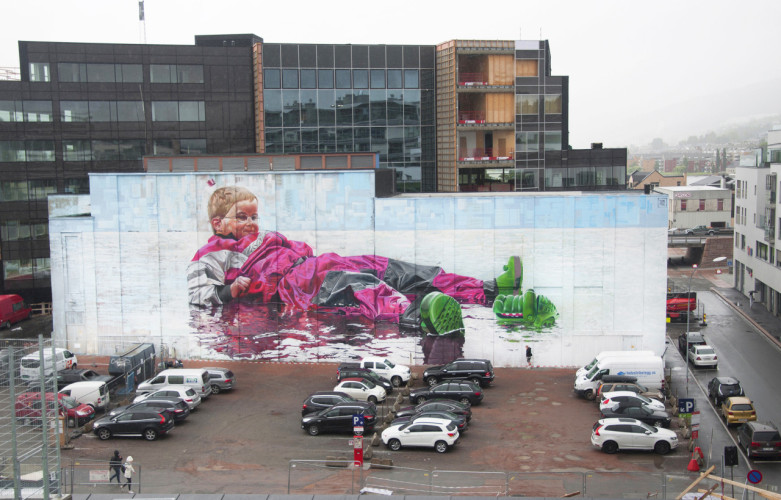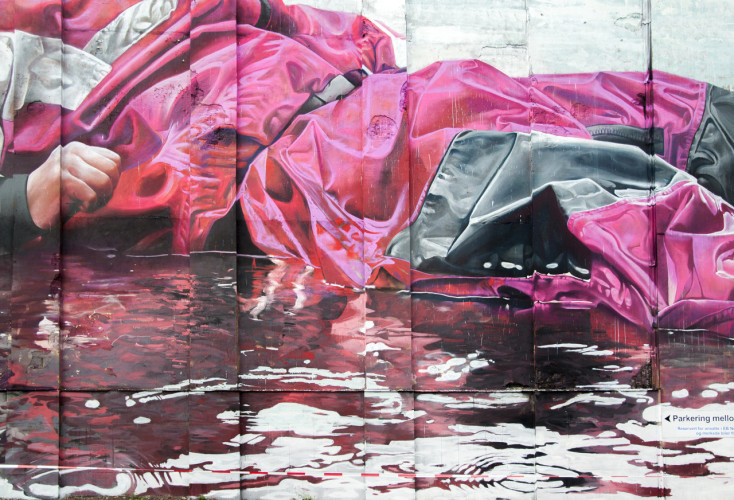 Artist duo Telmo Miel's mural for Norway's Ugang graffiti project is larger than life [Telmo Miel's website]
For fourteen days in late August, the city of Drammen in Norway hosted street artists from all over for Ugang, a grassroots project that fosters graffiti art and its creation. Walls near the town's square were allocated for artists to create large-scale murals on, curated by local graffiti artist Eric Ness Christiansen, or "Eazy."
Among the featured artists was Netherlands-based duo Telmo Miel, who are known for their life-life murals with a surreal twist. Their highly-detailed mural for Ugang presents a young boy lounging in water, which they entitled "Disconnected from Reality" after an unforeseen devastating incident with a refugee that bore a strange connection.
Also included amongst the participating artists was Henrik Aa. Uldalen, Saatchi Art artist whose expressionist portraits have long caught our eye. For Ugang, Uldalen painted a 10 meter tall ghostly figure falling through a dark abyss. Be sure to check out Uldalen's work on Saatchi Art!
Learn more about Ugang Prosjektet.
#2: HULA Sean Yoro's Latest Mural Sits Seaside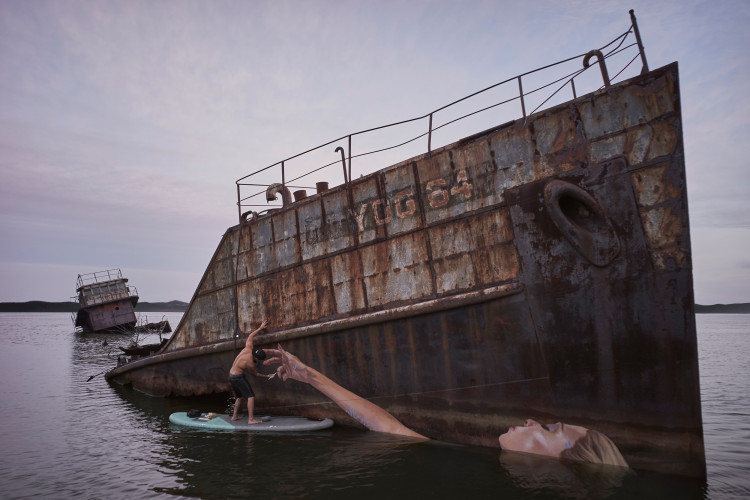 HULA Sean Yoro with "HO'I MAI" [Colossal]
Saatchi Art's One-to-Watch artist HULA Sean Yoro is making waves again with his latest mural, painted on the side of a partially sunken ship he stumbled upon. The piece is entitled "Ho'i Mai," which translates to "come back," a sentiment expressed through his subject's extended fingers, reaching for something just out of sight.
Sean is known for his striking female portraits he paints onto secluded spaces directly from his surfboard, in addition to portraits created on wood pannels. You can read more about his process and take a behind the scenes peek in our exclusive interview with this exciting artist.
#3: Saatchi Art's Forthcoming Show Presents Recent Graduates from Top US Art Schools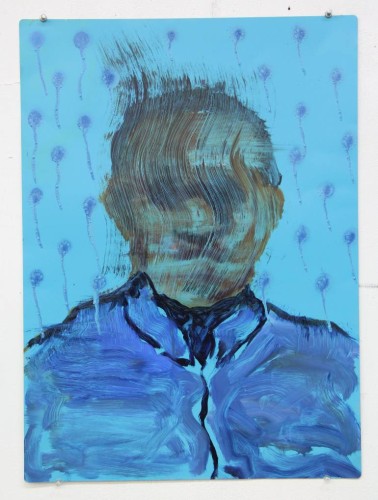 "Aqueous" by Alex Jackson, part of Surface Tension
Saatchi Art is excited to announce a new exhibition presenting work from recent graduates of top U.S. art schools. Held at New York's Parasol Projects, located at 345 Broome Street, Surface Tension will offer visitors the chance to see work by some of America's most promising graduates, fresh on the art scene. Each artist is part of Saatchi Art, and their work will be available for purchase both at the show and online.
If you're in NYC, join us on Thursday, October 8th for an opening reception from 6-9pm EST. Surface Tension will be on view at Parasol Projects through October 11th– swing by anytime between 11am-6pm on weekdays and 11-8pm on Saturday to experience this exciting display.
To RSVP for the opening reception, go here.
#4: Struggling Man Uses his Artistic Talent for the Better

John Masters shows off his artwork he creates to sell 
John Masters caught attention this week when he presented a divergent approach to panhandling. The down-on-his-luck Warrington, Florida man first collected $40 before investing it into art supplies he would then create with and sell.
After a series of unfortunate events, including trouble for him and his dog Sheba with the authorities and the sinking of his boat, Masters had to find a new way to survive. He drew upon a self-taught (or YouTube taught, rather) knack for painting to make his way, selling his paintings to the public. Masters' natural artistic talent has before carried him through tough times; he's now selling his paintings for $25-$40 a piece, and successfully so.
Read more about John Master's story.
#5: A Snapshot of an Ordinary Breakfast is Transformed into a New Work of Art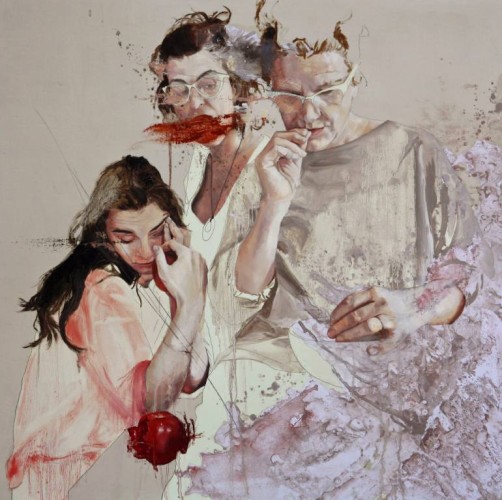 Jessica Rimondi explains the process and meaning behind "Madre"
In an exclusive interview with artist Jessica Rimondi this week, we delved into the her wonderfully expressionist painting "Madre." To create this work, Jessica was inspired by a photograph taken during a breakfast between a mother and two sisters. She then drew inspiration from classical Renaissance motifs, explaining,
I think it is really important to know that this photo was not previously prepared or thought for a painting. When I saw the photo, I felt a connection to Renaissance painting, specifically the theme of "Madonna col Bambino" for the structural body of the picture.
The finished product reflects these tropes, beautifully pulling together three figures into one moment. Read the entire interview and discover more about this work of art, straight from the mouth of its creator.
#6: UK Residents Show Their Love for Museums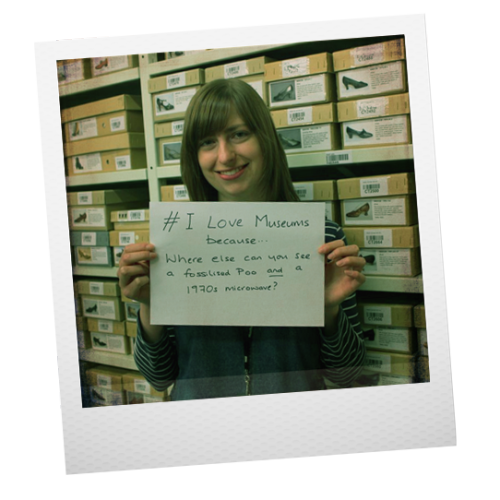 Campaign aims to keep UK museums alive through community support [#ILoveMuseums]
UK's museums have come under threat, as government has already begun imposing budget cuts on the arts that will reach up to a 40% decrease in their allocated funding. Strikes have broken out in response, including at London's National Gallery where the staff have walked-out indefinitely.
Another effort to combat this unfortunate situation engages with a more personal appeal – presenting government officials with individual resident's own reasons for keeping museums around. Enacted by The National Museums Directors' Council, the #ILoveMuseums campaign asks supporters to craft a pithy explanation of why museums matter, brilliantly interweaving it with the best and loudest platform available to all – social media.
Learn more about this great effort, visit the #ILoveMuseums site and read what people are saying.
#7: Light Installation Gives a Belgium Pond an Eerie Glow 

A box of light emanates from the center of a pond [Booooooom]
The Horst medieval castle in Belgium is now home to this dreamlike light installation, piercing the center of the castle's pond. The untitled piece is by artist duo Karel Burssens and Jeroen Verrecht, who go by the name 88888. The duo created a 40′ x 4′ in the pond, placing lights within it that come to life at night. The result is unnervingly beautiful – on display through October 11th.
What art happenings are on your radar this week?