6 Artists Focusing on Sustainability
Contemporary art speaks to issues surrounding global climate change and its consequences. Art and environmental activism have collaborated since the 1960's, and in our  increasingly visual culture, images are more powerful than ever. With important messages and compelling images, these 6 Saatchi Art artists use their art to fight against injustice, and help us re-imagine responses to global climate change and environmental conservation.
Simon McCheung
Simon McCheung is a self-taught photographer and a graphic designer based in London. Simon seeks to bring a sense of escapism in his photographs depicting dream-like concepts. Simon participated in the Motion Photography Prize competition, a collaboration project between Google+ and Saatchi Gallery in London. His work has also appeared in publications, such as Vogue Italia, My Modern Metropolis, Phlearn, Dodho and Worbz.
Mike Weber
Mike Weber is a Los Angeles-based artist who expertly combines mixed media with his nature photographs — taken in the wilderness of America's National Parks. Through a careful layering of colors, textures and patterns Mike draws attention to the animals living in our National Parks. He has exhibited at a number of international galleries and his artwork has appeared on the cover of Architectural Digest with collectors John Legend and Chrissy Tiegen, and has been featured in publications such as American Art Collector, US Weekly, New York Post, New York Times, Washington Post and the National Endowment for the Arts Magazine.  
Evan Paul English
Evan Paul English is an interdisciplinary artist currently residing in Brooklyn, New York. Evan examines the metaphorical qualities of found objects as stand-ins for the human body. He recently had a solo exhibition at NAPOLEON Gallery in Philadelphia, exhibited work at The Boiler | Pierogi in Brooklyn and presented his MFA thesis exhibition at the Pratt Institute in Brooklyn. Recently, he was an artist-in-residence at Surel's Place in Boise, Idaho and at the Vermont Studio Center in Johnson.  
Kofi Effah
Ghanaian artist Kofi Effah, currently resides in Los Angeles where he creates artworks consisting of intricately hand-sewn buttons on canvas. Influenced by his background in textiles and metalsmithing, Kofi has the ability to orchestrate a harmonious composition out of a diverse array of textures, colors and sizes. As an entrepreneur and artist, Kofi's pieces can be found at Coffee by Kofi in downtown Los Angeles.
Gavin Zeigler
Based in New York, Gavin Zeigler is a contemporary abstract painter and sculptor who re-contextualizes materials and objects — coins, keys, obsolete stock certificates, old bank checks — in his highly texturized mixed media paintings. Gavin received his degree in Art History from Fordham University in New York City. His works can be found in public and private collections throughout the US and Europe, as well as museum collections like the Cumberland Gallery in Nashville, Tennessee and the Heckscher Museum in Huntington, New York. Gavin's works have also appeared in television shows, including Nashville, Royal Pains and One Live to Live. 
Jesse Hickman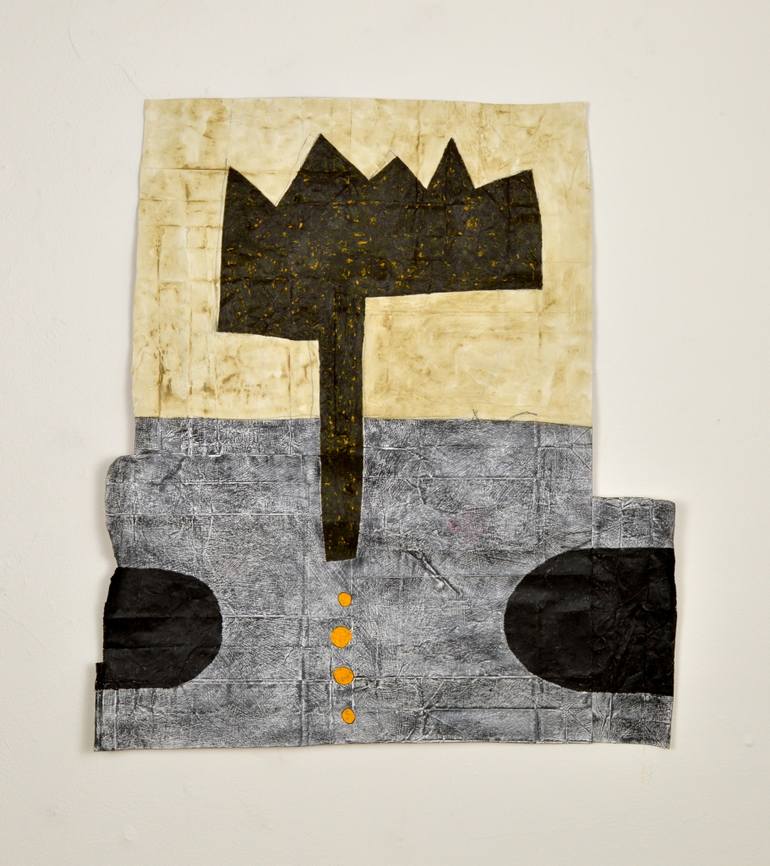 Influenced by his Chicago roots, Jesse Hickman employs an intuitive approach to his three-dimensional works by masterfully layering "found objects" with an array of materials, such as tar, carbon paper rubbings, house paint and charcoal. After receiving his degree in Photography from the Institute of Design in Chicago, Jesse went on to exhibit in numerous solo and group exhibitions in cities throughout the US such as Chicago, Illinois, California and New York.
Love reading about all things art? You can have articles from Canvas, curated collections, and stories about emerging artists delivered straight to your inbox. Sign up for the Saatchi Art Newsletter.