Helen Levitt and Other Women Photographers
It would be mistaken to suppose that any of the best photography is come at by intellection; it is like all art, essentially the result of an intuitive process, drawing on all that the artist is rather than on anything he thinks, far less theorizes about. 

– Helen Levitt
Helen Levitt found an unflinching pertinacity and charm in the close-knit neighborhoods of New York City. Levitt began making photographs in the mid 1930s, learning the craft from a commercial photographer with whom she worked. However, her true artistic education came from following New York's burgeoning photography scene. Levitt frequented the Julien Levy Gallery, one of the few galleries that exhibited photographs in New York, the Museum of Modern Art's quickly expanding photography department, and befriended leading documentary photographers like Walker Evans and Henri Cartier-Bresson.
Levitt soon made a name for herself in street photography, and claimed her trademark subject in community life, specifically the activities of women and children. Levitt's photographs manage to create a tangible sense of place, and offer a raw depiction of the harsh streets and tireless people of 1930s-40s New York City. Her work was included in the MoMA photography department's inaugural exhibition in 1940, and had her first solo exhibition with the museum in 1943. A devoted advocate of Levitt's work, writer James Agee helped her collect many of her best-known images into a book, A Way of Seeing, to which he wrote an adjoining text (produced in the 1940s, but not published until 1965).
In honor of Helen Levitt's birthday, we take a look at 6 women artists on Saatchi Art that take a cue from the famed street photographer.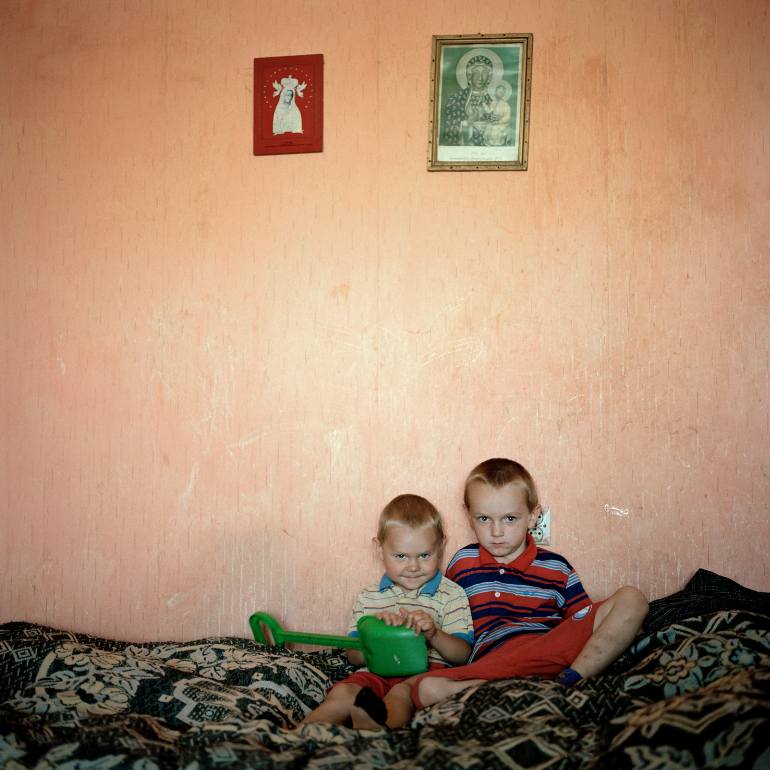 Palmowo, Poland: From the Series "Between Homes" by Ula Wiznerowicz via Saatchi Art
London-based artist, Ula Wiznerowicz focuses on social documentary photography, using her unique Polish/English perspective to create photographs with a palpable familiarity with her subjects and settings. Her careful handling of subjects and their poignant stories has won her acclaim and various awards including the Daylight Photo Award, Jurors Pick, FotoVisura Grant, and the Saatchi Gallery Prize. See more of Ula's works here.
Movement by Flora Borsi via Saatchi Art
Flora Borsi is a young fine art photographer from Hungary with a propensity towards images that examine identity, relationships, emotions and dreams. Flora masterfully manipulates her images to create surreal compositions that capture the complexities of the human condition. Her ethereal photographs have won multiple art prizes and garnered critical acclaim from press including The Guardian's Observer and BBC Culture. See more of Flroa's work here.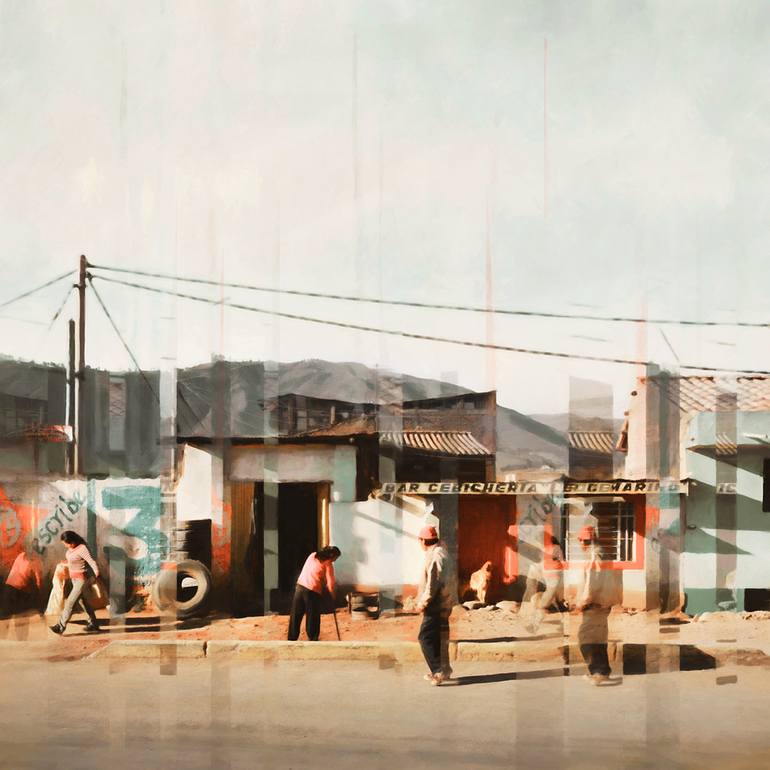 7:47 Peru by Nadia Attura via Saatchi Art
Nadia Attura is a London based artist who craftily adds washes, paint, chalk and ink to her street photographs. By strategically layering photographs so that the final image is a collection of multiple scenes within a scene, the artist conveys a sense of time and place. Her work is featured in prominent residential and public projects around the world, and she will be displaying some of her works at The Other Art Fair in London this fall. See more of Nadia's work here.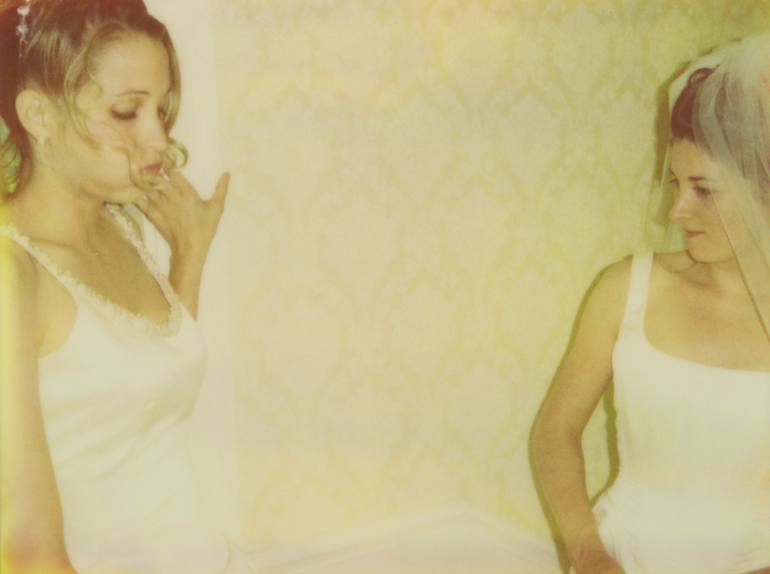 Breaking the Waves I by Stefanie Schneider via Saatchi Art
Stefanie Schneider lives and works in Los Angeles and Berlin and has developed a distinctive old, screen-still photography style. Stefanie's images have an ephemeral quality like passing sequences from an old film, and are purposefully over-saturated depictions of young women in dream-like settings. Her work has been shown at the Museum for Photography in Braunschweig, the Museum für Kommunikation, the Les Rencontres d'Arles, among others. See more of Stefanie's work here.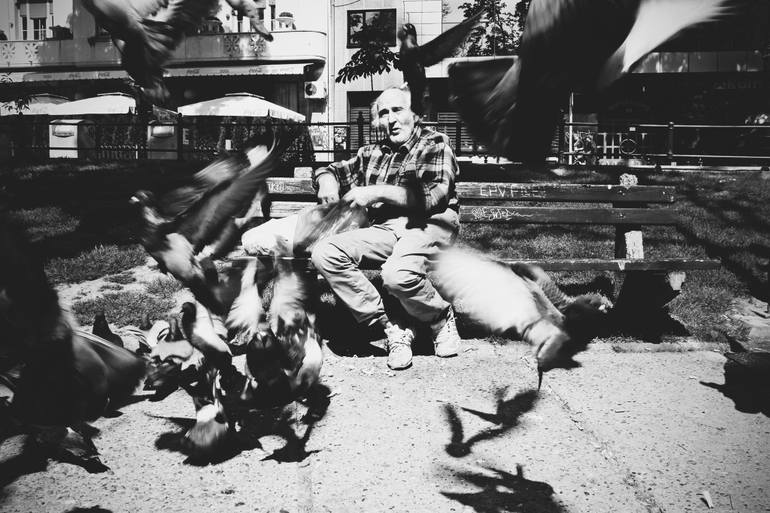 Belgrade by Jelena Kostic via Saatchi Art
Jelena Kostic finds inspiration in everyday life and situations, using her camera to actively respond to and voice her opinions aboout contemporary society. Jelena is a highly technical photographer, believing her technique is as important as her subject. Jelena's photographs have been published in ELLE, Photo Vogue Italia, and other well-known magazines. See more of Jelena's work here.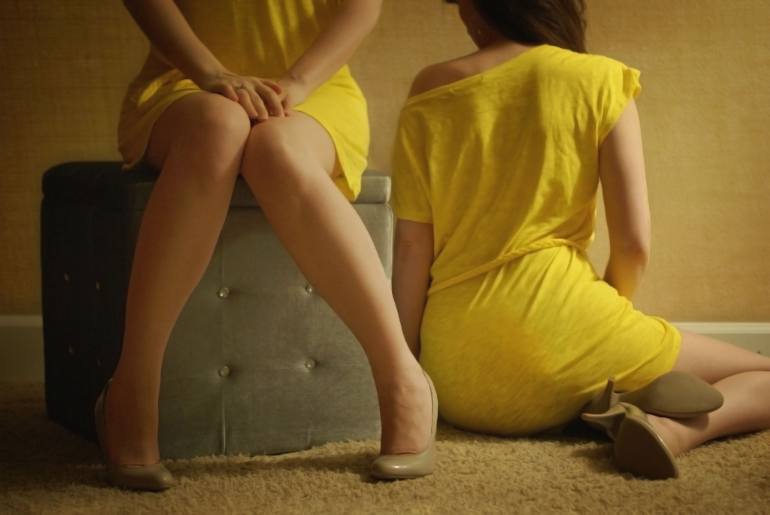 Lemon twist by Elle Hanley via Saatchi Art
Elle Hanley is a self taught fine art photographer currently living and working in Seattle. Elle challenges herself to create something classic and timeless from a distinctively modern photographic process, creating an immediate and fundamental contradiction within each of her works. Elle has had numerous solo and group exhibitions across the country and has been featured in various art and fashion publications. See more of Elle's work here. 
Love reading about all things art? You can have articles from Canvas, curated collections, and stories about emerging artists delivered straight to your inbox. Sign up for the Saatchi Art Newsletter.