Art History 101: Drawing
In celebration of the opening of "Drawing: The Art of Change" at the Getty Center in Los Angeles, Saatchi Art would like to spotlight one of the oldest forms of self-expression. From communicating to others to the immediate creation of ideas, drawing allows for a wide breadth of purposes and a variety of mediums.
Read on to learn how drawing emerged 40,000 years ago and how it became one of the most common artistic forms today.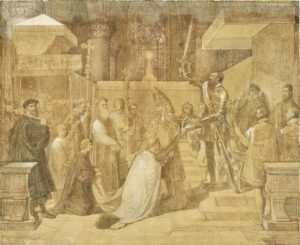 A Brief History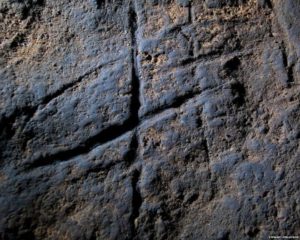 Found on the surfaces of caves, the oldest known drawings were created about 40,000 years ago. Long pre-dating written communication, drawings served as a pictorial language, as well as being the oldest form of human expression. Going beyond language, Neanderthals are thought to have created artwork of people, animals, and patterns by drawing or etching on surfaces of rock.
In the 14th century, drawing became a popular activity after paper became a widely available material. Drawing was regularly practiced by painters and sculptors to create preliminary studies of their works. Unlike other mediums, drawings often leave traces of the creative process, such as crossed-out lines, repositioned figures, cut and pasted forms.
In present day, drawing is utilized by those beyond the artistic field; science and nature texts have illustrations for clarity, and both architects and engineers create preliminary drawings of their creations.
Techniques and Famous Works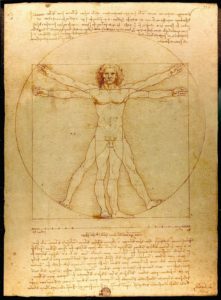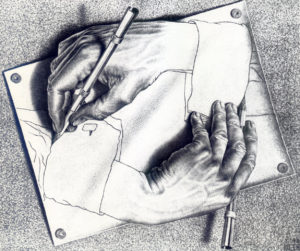 An artist's preferences and desired effects informs their choice of which type of media to use, dry (graphite, pastel, charcoal, conte, metalpoint, etc.) or wet (pen, ink, mark, etc.). One of the most famous ink and pen drawings is "The Vitruvian Man," by Leonardo da Vinci, a drawing depicting the ideal proportions of a human figure as determined by Vitruvius. Additionally, "Drawing Hands" by MC Escher is considered one of the most widely referenced drawings by other artists and in popular culture.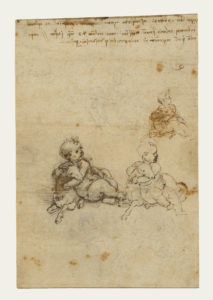 In "Studies for the Christ Child with a Lamb" by da Vinci, the artist uses pen, ink, and chalk to create preliminary drawings in preparation for a painting of the Virgin and Child with Saint John. "Pastoral Landscape" by Claude Lorrain is an example of underdrawing that would later become a painting.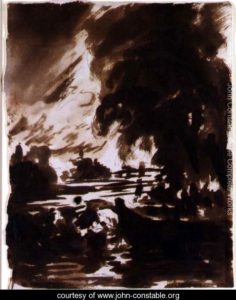 Watercolor pencils have a duality in that they can be used both wet and dry. Dry, they can be used like normal pencils and when wet they act like watercolor paints. John Constable created the well-known pencil drawing "Trees and a Stretch of Water on the Stour," but added a sepia wash for expressionistic characteristics that could only be achieved by both dry and wet media.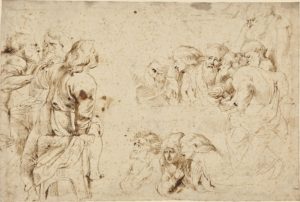 In addition to choice of media, paper will greatly affect the outcome and longevity of the drawing. Highly textured paper can hold softer drawing media such as charcoal, while smoother paper allows for the fine lines and precise detail in graphite pencil drawings.
Other master artists who frequently created drawings include Raphael, Peter Paul Rubens, Dante Gabriel Rosetti, Rembrandt, Francisco Goya, Edgar Degas, Paul Cezanne, and Henri Matisse.
Love reading about all things art? You can have articles from Canvas, curated collections, and stories about emerging artists delivered straight to your inbox. Sign up for the Saatchi Art Newsletter.