A Master of Color: Paul Klee
Paul Klee, a Swiss-German artist, was a master of color and left his mark on numerous groundbreaking 20th-century movements, from Bauhaus and Surrealism to German Expressionism and Dada. Truly an artist of many talents and interests, Klee is difficult to tie to any one movement or style. Klee was particularly influential across various movements and artists for contributing to one of the fundamentals of art: color theory. Klee developed his color theory during his tenure at the German design school—the Bauhaus—in the 1920s. In his book, "Creative Confession," Klee states:
"Art does not reproduce the visible but makes it visible."
This concept is critical to Klee's theories surrounding color, form, and design. Klee's art theories became a prominent component of courses taught at the Bauhaus during his time at the design school from 1921 and 1931. Klee based his color theory on the color wheel: a six-part circular rainbow. He placed complementary colors in relation to one another around the color wheel, illustrating his ideas on dynamic transitions and gradations of color. In his approach to teaching art fundamentals, Klee aimed to show the foundations of color and form so that his students could continue learning and experimenting independently. Subtle yet profound in his teaching methods, Klee was known as the 'magician' amongst his Bauhaus peers and students.
These five Saatchi Art artists continue to uncover and explore the tenets of Paul Klee's theories to create lively compositions that rely on a deep understanding of color dynamics and balance of form. Explore these artists' portfolios to discover how they further draw on Klee's foundational theories to push our conceptions of color and composition in art.
 Shellie Garber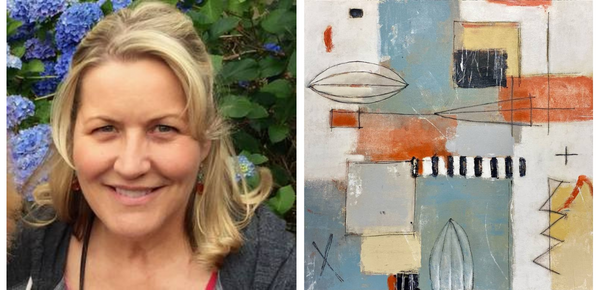 Shellie Garber is a self-taught painter based in Portland, Oregon. Shellie's paintings exude joy and calm with expressive colors and mark-making juxtaposed with sparse compositions. Her ebullient abstracts draw viewers in with their sense of place evoked through playful suggestions of landscapes and houses. Shellie began painting in 2015 and has since exhibited prolifically in the Pacific Northwest, with recent exhibitions at the Portland Art Museum and RiverSea Gallery in Astoria, Oregon. Her work is held in private collections in the US, East Asia, Australia, and Europe. View her portfolio here.
Lani Buckland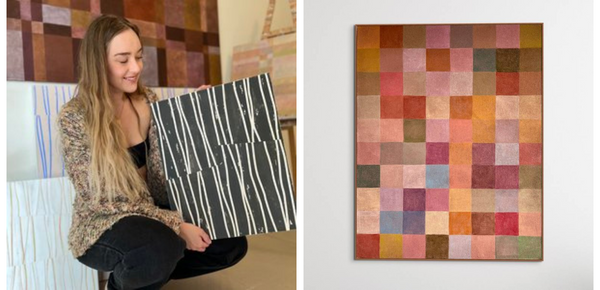 Lani Buckland is a self-taught New Zealand artist inspired by the divergent colors found in nature and architecture. Lani's creative practice centers around her latest series' explorations of color and light. Predominately abstract by design, structure, and color, the organic colors found in Lani's current paintings are created with synthetic polymers and textural elements through a lengthy layering process. Lastly, Lani's attention to light breathes life into her compositions, generating a multi-dimensional effect that immediately engages and entrances viewers. View her portfolio here.
Elena Pallarés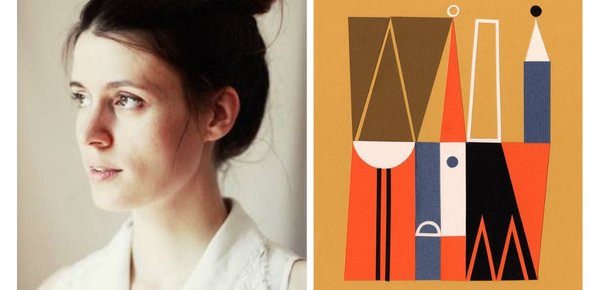 Combining drawing with digital and handmade collage techniques, Helena Pallarés creates graphic compositions that are striking in their ability to capture a subject through minimalist forms. A Spanish artist and illustrator based in Paris, Helena's vivid portraits and abstract designs are full of personality in their dense applications of color and striking geometric forms. Helena has shown her work widely across France and Spain in group and solo shows and has continually exhibited at yearly editions of The Other Art Fair in London. View her portfolio here.
John Ford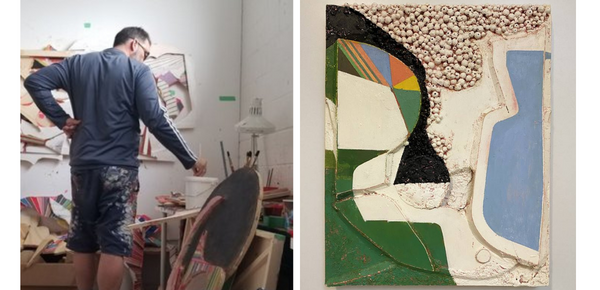 John Ford is a multidisciplinary artist, working across sculpture, installation, painting, and printmaking. John's paintings and constructions focus on shape, color, and texture, building a unified whole from the fragments of larger objects. Using materials like plywood, drywall, canvas, and paper, John is drawn to things that reflect the organic forms and colors in nature. Like the aging of skin or the bark on an ancient tree, his assemblages show the passing of time through their materiality and rough tactile qualities. John has shown his work in numerous solo and group exhibitions across the US, Canada, Ireland, Italy, Russia, and Poland. John's work resides in private collections in the US, Canada, Europe, and Asia. View his portfolio here.
Elohim Sanchez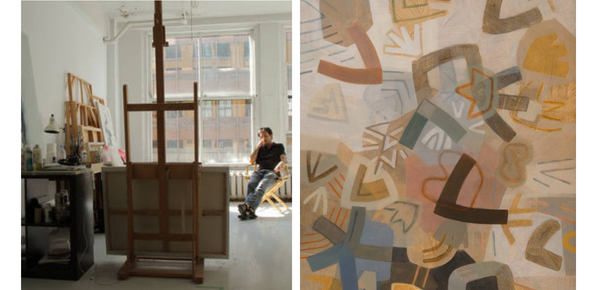 Living and working in Montreal, Elohim Sanchez's painting practice is informed by his film, sculpture, and architectural design studies. Seeing no difference in his visual art from the 3D modeling required for architectural designs and building plans, Elohim focuses on the dichotomies between geometric shapes, varying textures, and color opacities. Manipulating these variables, Elohim takes his compositions in different directions through changes in energy and intention. He has shown his paintings in exhibitions throughout Montreal, and his work can be found in collections in the US and Canada. View his portfolio here.
Love reading about all things art? You can have curated collections, stories about emerging artists, and more delivered straight to your inbox. Sign up for the Saatchi Art Newsletter.