5 Reasons to Get to Know Saatchi Art Artist Dariusz Labuzek
Saatchi Art loves the imaginative abstracts of painter Dariusz Labuzek. Here's 5 reasons you should get to know more about Dariusz and his work:
1)  Dariusz creates his abstract figurative works with design and composition in mind. He studied architecture at Cracow University in his native Poland, and Filmmaking at Humboldt State in Arcata, CA upon coming to the US.
2) If you appreciate vibrant, expressive figurative art and organic forms and shapes, you'll really enjoy Dariusz's art.
"I love the energy in Dariusz's paintings and his distinctive interpretation of the human form. His paintings are the manifestation of a very physical and spontaneous interaction with paint as a medium."
– Rebecca Wilson, Chief Curator and VP, Art Advisory

Saatchi Art artist Dariusz Labuzek at work in his studio in Hayward, CA. He describes his creative style as "vigorous and often spontaneous… lead frequently by emotions." (Image: Dariusz Labuzek / Saatchi Art) 
3) Getting to know Labuzek's artwork could prove valuable in the future. Dariusz was one of our Chief Curator's exclusive picks for Saatchi Art's 2015 Invest in Art series. His statement-making artworks are described as "using a visual language inspired by primitive imagery and artists such as Basquiat and de Kooning."
4) His painting, Manhattan Transfer, was just selected as one of the winners in this year's First 2016 ArtSlant Prize Showcase.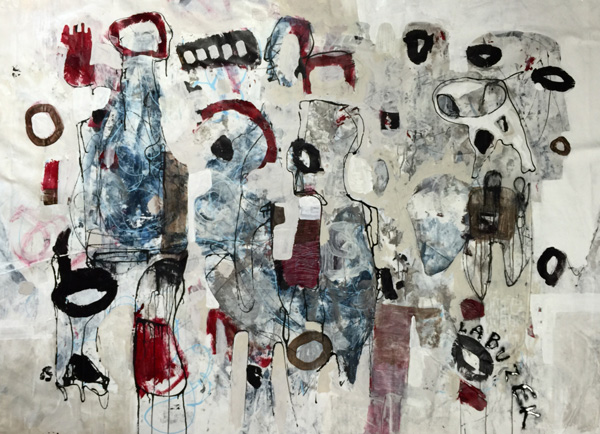 (Image: Manhattan Transfer, an original painting by Saatchi Art artist Dariusz Labuzek)
5) Dariusz is an artist who cares and gives back to the community. His work has been featured in Chicago's Polish Museum of America's Art For Heart Fundraising Exhibit three times. In addition to supporting the Museum, the event supports the Gift From the Heart Foundation, a non-profit that helps seriously ill children receive urgent medical treatment.
To see more of Dariusz Labuzek's intriguing artworks, visit our Spring Catalog or explore his portfolio here on Saatchi Art.
Some of his paintings will also be featured in an upcoming show at 111 Minna Gallery in San Francisco in June 2016, a great chance to see his work in person if you're in town.