4 Saatchi Art Artists to Know: Meet the New School of Sculptors
Featured in Meet the New School of Sculptors collection, meet four Saatchi Art artists you need to know. Their practices span mediums as traditional as granite and modern as neon. All are innovative in their own right and have been favored by collectors from all over the world.
Michael James Talbot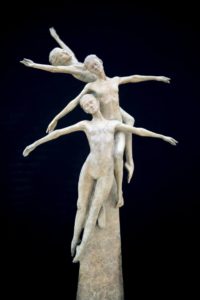 "Reborn" by Michael James Talbot (Image: Saatchi Art)
While utilizing materials such as bronze and granite, Michael James Talbot is able to express a serene grace and fragility to his figurative sculptures. His lifelike artworks of mythical women of the earth and sea create a fascination for the viewer, to a subject that is both real and unreal. "The human form gives me an endless source of inspiration. No other subject has this richness of emotional and spiritual content or the capacity to convey such a broad and interesting narrative," Michael says.
Michael received his Masters degree from the prestigious Royal Academy of Arts in London. He is an inductee to the Royal Society of British Sculptors. His sculptures have sold to collectors to all over the world, in countries such as the US, the UK, Italy, Germany, and Australia. Explore Michael's portfolio here.
Lisa Schulte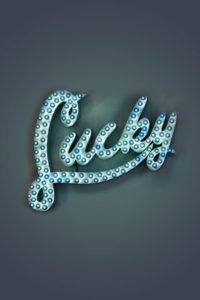 "Lucky" by Lisa Schulte (Image: Saatchi Art)
Dubbed the "Neon Queen," sculptor Lisa Schulte creates dynamic messages with neon. Since temporarily losing her sight as a child, Lisa has gained an intense appreciation for the nuanced interactions between light and dark.
In a collaboration between Saatchi Art and Bulleit Frontier Works, Lisa Schulte created an exclusive, sold-out collection of neon messages in a bottle curated by Chief Curator, Rebecca Wilson. Explore Lisa's portfolio here.
Thomas Gromas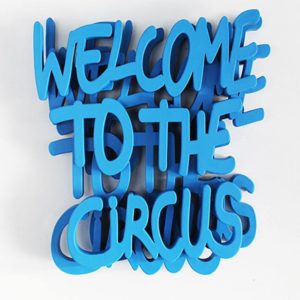 "Welcome to the Circus" by Thomas Gromas (Image: Saatchi Art)
Echoing Roy Lichtenstein's graphic text-centered Pop Art paintings, Thomas Gromas creates bold sculptures focused on text and phrases that explore desire in contemporary culture. His sculptures celebrate positivity and exclaim phrases such as "you are fantastic" and "happily ever after."  Thomas says, "Using the repetition of text to explore various notions of fantasy, reality, and contemporary culture, I emphasize the power of our modern lexicon."
As a Saatchi Art collector favorite, Thomas has sold his work to collectors all over the world including the US and Canada, the UK and Europe, the UAE, and Asia. In 2014, Thomas was chosen by Saatchi Art to be featured for the Inside the Studio series. Explore Thomas' portfolio here.
Sam Shendi
"Anvil" by San Shendi (Image: Saatchi Art)
Sam Shendi's brightly colored sculptures attempts to decrease the complexities of human interaction in the modern day. Through the simplification of the human form and vibrant colors juxtaposed together, Sam focuses on joy and excitement. His figurative sculptures can be ballooned in size, crouching low to the ground, or even standing on its head so that the immediate response is for both interaction and play.
Sam was featured in the first edition of Saatchi Art's Invest in Art series. He has been awarded the first First@108 public art prize by the Royal Society of British Sculptors. Sam has exhibited his artworks extensively throughout London and abroad. Explore Sam's portfolio here.
Love reading about all things art? You can have articles from Canvas, curated collections, and stories about emerging artists delivered straight to your inbox. Sign up for the Saatchi Art Newsletter.