7 Facts About Mary Cassatt's Inspired Life
Painter and printmaker Mary Cassatt was a true pioneer, a forward thinking female who subverted the status quo and defied obstacles often denied to her based on her sex. Cassatt's practice centered on materializing the interior life of women through intimate or quotidian moments that took place throughout her life. She developed a style her own, blending impressionism with touches of Japanese printmaking, always bringing a feminine softness to her canvas.
In honor of her birthday, we've compiled a few facts about her prolific life, which began in Pennsylvania and ended in Paris.
1. Cassatt's mother was very well-read and educated, a privilege she afforded Mary and her siblings.
2. On a family trip to Europe in 1855, Mary first saw the work of French artists Ingres, Delacroix, and Courbet, who would come to influence her work greatly.
3. Cassatt was dissatisfied with the education she was receiving at the Pennsylvania Academy of Fine Arts, particularly the restrictions exclusive to women, and began to explore and research the Old Masters on her own.
4. In 1866 she began studying with Jean-Léon Gêrôme in Paris, picking up a touch of his Eastern-influenced style. Richly patterned fabrics and closely cropped intimate spaces are hallmarks of Japanese art, exhibited in her famous "Little Girl in Blue Armchair" work from 1878.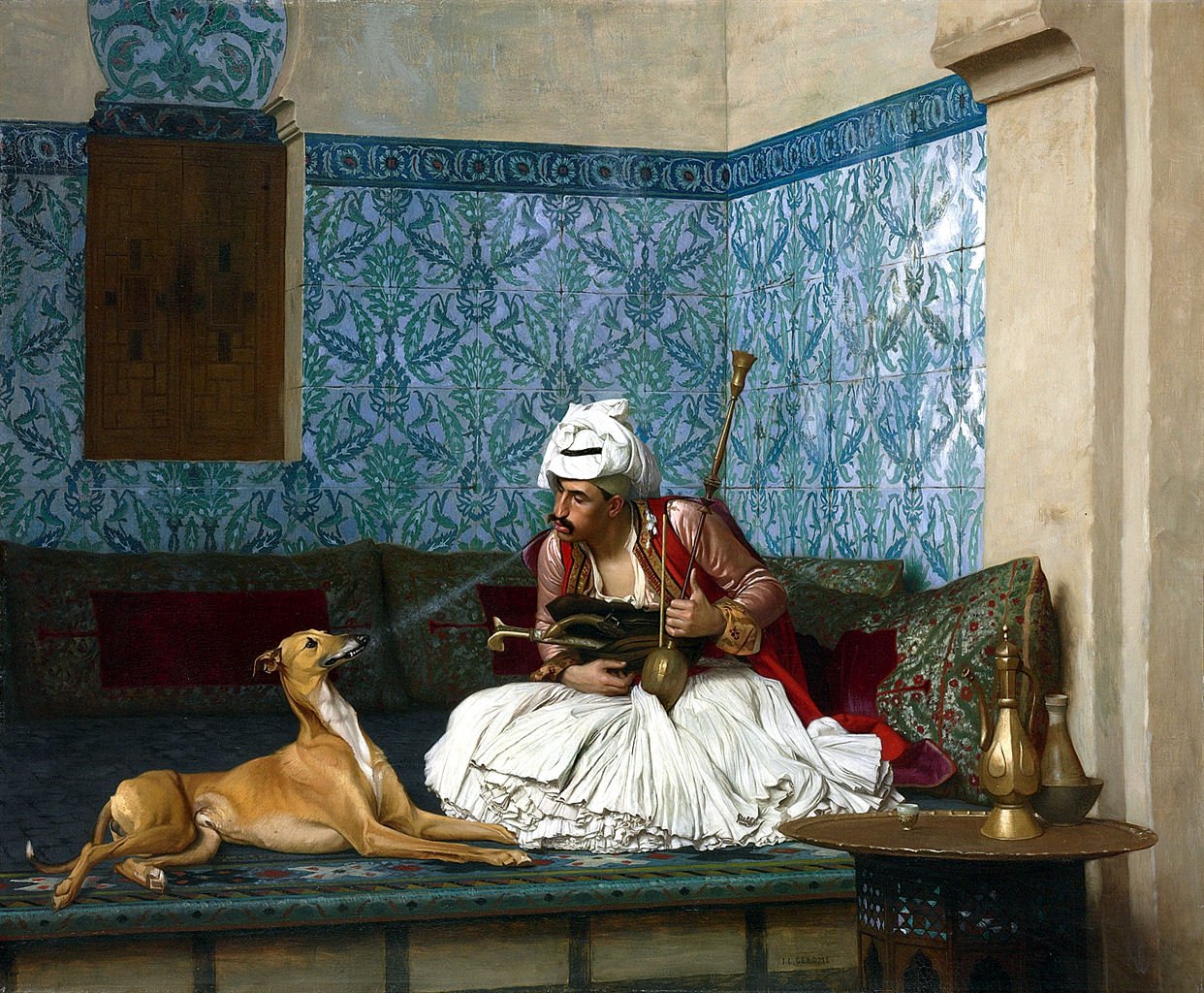 Arnaut Blowing Smoke in His Dog's Nose, Jean Léon Gérôme. (Image Courtesy: Wikipedia)
5. Cassatt, alongside Elizabeth Jane Gardner, was one of the first women whose work was accepted and shown in a Parisian Salon in 1868. The work accepted was "A Mandolin Player," depicting a young girl clutching her instrument, painted in rich colors and basking in a luminous orange glow.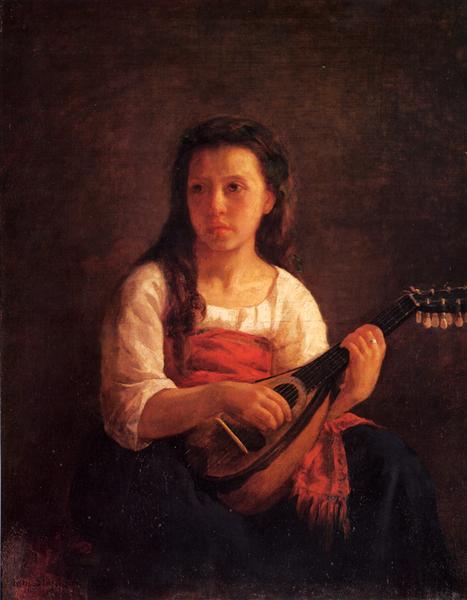 A Mandolin Player, Mary Cassatt (1872). (Image Courtesy: WikiArt)
6. Edgar Degas was a known proponent of Cassatt's work, taking her into his growing impressionist group in 1879. The two met after she had fallen into disfavor with the Salon, reinvigorating her career.
7. Cassatt's older sister Lydia was a favorite subject of the artist, who painted her reading a newspaper in 1878. This act was unusual for the time, remarking on the increasing role of women in society.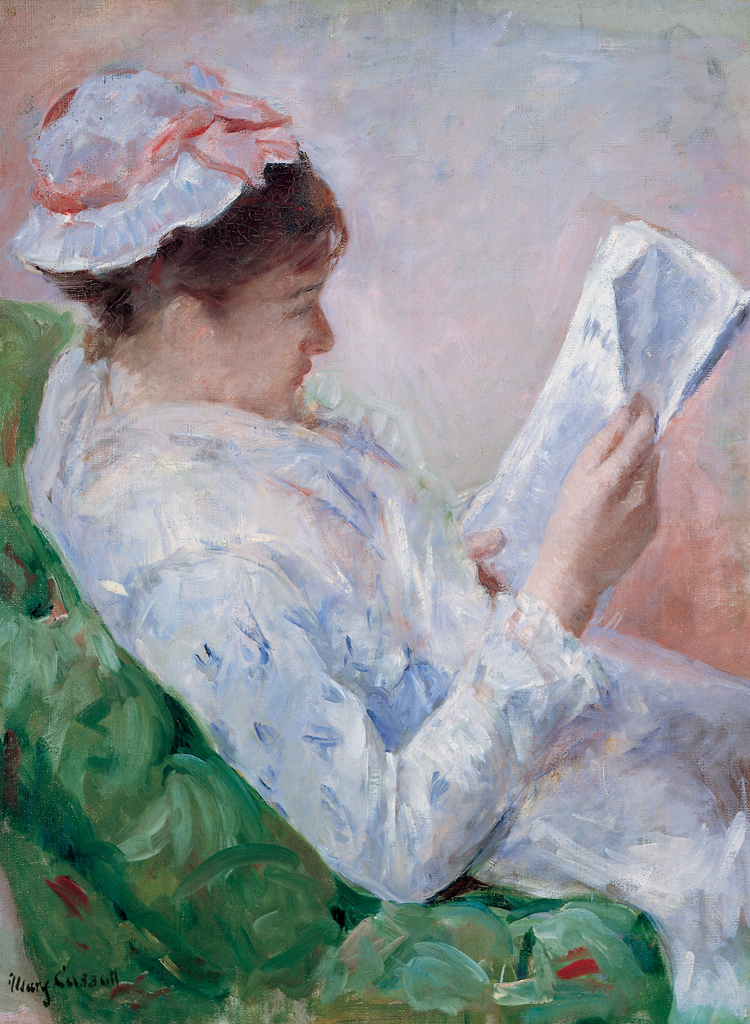 Lydia Reading the Morning Paper (No. 1), Mary Cassatt (1878-79). (Image Courtesy: Joslyn Art Museum)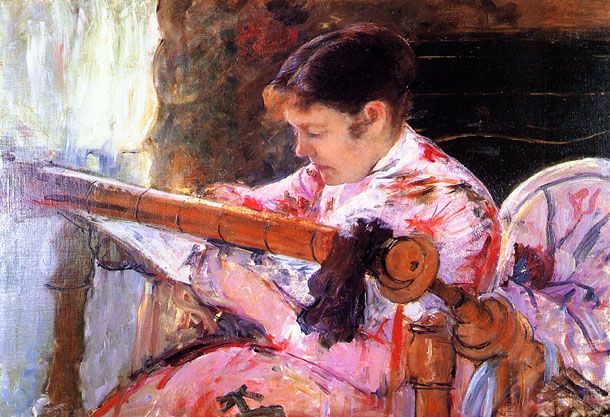 Lydia at the Tapestry Loom, Mary Cassatt. (Image Courtesy: Pinterest)
Love reading about all things art? You can have articles from Canvas, curated collections and stories about emerging artists delivered straight to your inbox. Sign up for the Saatchi Art Newsletter.