The Majestic Downtown
The Majestic Downtown is a historically preserved building, protected by the National Register of Historic Places. Its Indiana limestone facade, crystal chandeliers, high hand painted Italian ceilings, arched windows, sculpted marble columns and original marble floors lend a rich historical beauty to any event.
Built during the reign of the Beaux Arts movement in 1924 by architectural firm Schultze and Weaver, it served as the Hellman Commercial Trust and Savings Bank for four years before becoming the national headquarters of Bank of America. Elements of the bank are preserved exactly as they were built.
---
Fair Dates and Tickets
Private View:
Thursday, March 15th, 6pm-10pm
$30
*Limited tickets available, must be booked in advance. Cannot buy on the door. 
General Entry:
Friday, March 16th, 3pm–10pm
$15 ($13.50 students and seniors)
Saturday, March 17th, 1pm–10pm
$15 ($13.50 students and seniors)
Sunday, March 18th, 11am–6pm
$15 ($13.50 students and seniors)
---
Address
The Majestic Downtown
650 South Spring Street
Los Angeles, CA 90014
---
Public Transport
Metro Station
Pershing Square
7th Street/Metro Center
Civic Center/Grand Park Station
---
Parking
Parking near the venue include:
The Majestic Downtown Parking (Prices: $ 3.00 to $31.50)
805 S Spring St. – Lot
530 S Spring St. – Garage
808 S Olive St. – Garage
523 S Olive St. – PacMutual Building Garage
CurbStand Valet Parking
Fair visitors can take advantage of a $20 valet service with the CurbStand app.
To use CurbStand valet, download the CurbStand app. Once downloaded pull up and follow the steps on the valet ticket.  When ready to go, hit 'Request Your Car' in the app and the valet will be alerted to bring your car around! Now you can leave The Other Art Fair when you are ready, not when everyone else is!
Download the app for iOS or Android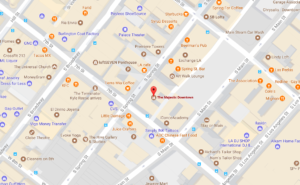 ---