8 Ways to Transform Your Space with Turquoise
For an instant uplift to your home design, think turquoise. Here are 8 of our favorite ways to add a touch of this buoyant blue-green to your home without repainting your walls:
1. Add a Wave of Color With Contemporary Art
While featuring turquoise in an oversized artwork, you can take advantage of the color's tranquility and bring the shades of summer to your walls.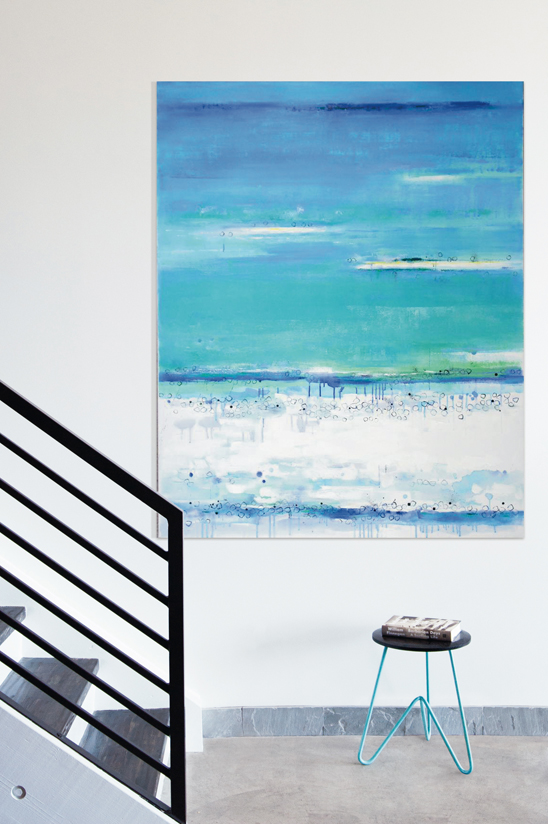 If you're ready to dive in, browse our Color Story: Turquoise Collection to see 51 new contemporary artworks.
2. Boost Your Bedroom's Appeal
A traditional-eclectic turquoise headboard, paired here with confident coral red and bold stripes made for modern beach house style.
3. Start From the Ground Up
Roll out a patterned rug in shades of turquoise — or luxe statement seating — to incorporate new texture and pattern while complimenting the colors of your most treasured artworks.
4. Take it Outside
The color turquoise is a natural match for modern outdoor living spaces. Plant some fresh color with turquoise planters, perky patio chairs, or outdoor pillows.
5. Turn on the Light
Reach for striking statement chandeliers or nautical-style glass pendants in cheerful turquoise to cast a glow with color while accenting your art collection.
6. Make a Memorable Entrance
Color your front door turquoise to add some eye-catching modern flair anywhere.
7. Brighten Your Wood
Add a splash of turquoise to traditional wood tones. Cheerful cabinets can add stylish impact, even in compact spaces.
Treat yourself to a taste of color with modern turquoise appliances.
8. Reinvent an Old Favorite With New Color
Revamp a favorite table, shelf, or frame with a coat of friendly turquoise for a fresh look.
Experiencing a Major Color Crush? Read our earlier post for more about how to capture the positive power of color with art, or reach out to Saatchi Art's complimentary Art Advisory to find original art in your favorite colors today.