Presenting: The Fine Artist Summit
If you're serious about thriving as a visual artist, this is the must-attend event of the year.
The Other Art Fair are excited to be partnering with The Fine Artist Summit. It is an online summit for visual artists providing free entrepreneurial education. Featuring 37 Artists and career experts from around the globe, including Ryan Stanier, founder of The Other Art Fair, Fair Director Sophie Lucas and Senior Fair Manager Jessica Chow.
The Fine Artist Sumit online conference is a seven-day educational event taking place from November 22nd – 28th, 2019. The Fine Artist Summit assembles 37 of the world's most accomplished entrepreneurial artists and art career experts to share their insights on what it takes to thrive as a visual artist in the 21st century. Each day of the week offers 5 different masterclasses, designed for artists who seek practical, current advice to help grow their careers. The masterclass sessions, 36 in total, are offered free of cost and will remain available to registrants for 24 hours after the initial launch.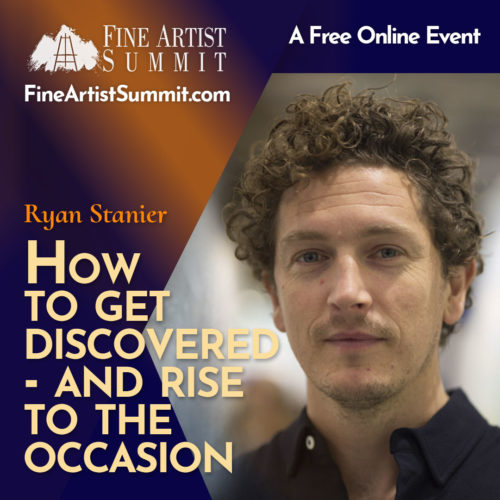 The Fine Artist Summit takes place one hundred percent online. This is the first time a virtual summit launches specifically for visual artists. The global scope of the project includes speakers spanning the art capitals of the world, including San Francisco, New York, London, Madrid, Paris, Sydney, and Tokyo.
The online event is hosted by none other than Miguel Mayher founder of ArtMBA.com. Over the last decade he has signed partnerships with national museums, run artist entrepreneurship workshops for The International Arts & Culture Group, and coordinated Tokyo 2020 Olympics art initiatives, developing a unique understanding of the challenge between being creative and getting things done. Other Speaker include The Other Art Fair's founder Ryan Stanier, Heather Bandhari author of ART/WORK, Jason Horejs author of How to Sell Art, and world-class artists such as BP Portrait Prize winner Miriam Escofet or Colin Davidson of TIME Magazine cover fame, and many more.
The Fine Artist Summit organizer Miguel Mayher researched hundreds of business resources for artists and discovered that the majority of instruction is put forward by a single educator. He believes that no one expert has all the answers, and a variety of domain expertise creates effective benefits for learners. Mayher states, "When getting questions from artist friends I started to realize that not only did I not have all the answers – no one does. By bringing together dozens of successful artists and advisors, I started to see patterns emerge on what makes an artist journey thrive." His mission, in tangent with The Fine Artist Summit and ArtMBA.com, is to bring artists the best advice on how to make their career successful on their own terms.
Some of the world class sessions include: How To Get Discovered – And Rise To The Occasion- Ryan Stanier. Art Fair Advice For Artists with Sophie Lucas – Fair Director at The Other Art Fair Brooklyn & Chicago and Jessica Chow – Senior Fair Manager of The Other Art Fair UK. Showing Your Art In Galleries And Alternative Spaces –Heather Bhandari, Curator and author of ART/WORK.  How To Talk About Your Work & Win Art Grants –Gigi Rosenberg, Author of The Artist's Guide to Grant Writing.  Facing The Inner Critic & Becoming A Professional –Alyssa Monks, Fine Artist. How To Sell Your Art And Get Gallery Representation –Jason Horejs, Author of How to Sell Art. How To Be Featured In Art Magazines –Ali Cavanaugh, Fine Artist.  Staying Grounded and True To Your Work -Colin Davidson, Fine Artist.  Instagram For Fine Artists –Dina Brodsky, Fine Artist & Social Media Influencer. Artist Residencies: How To Research, Apply & Benefit -Eliza Roberts, Executive Director at ResArtis.org. Organizing A Self-Curated Group Show –Rosalind Davis, Artist & Author of What They Didn't Teach You In Art School. How To Write About Your Art & Your Show Press Release –Vicki Krohn Amorose, Author of Art-Write.
The Fine Artist Summit will make all of their educational sessions free to watch every day of the conference. Attendees will have the option to upgrade to a Premium Pass to keep access to the recordings after the conference. Artists are encouraged to register now to receive their free online ticket to the conference. The Fine Artist Summit begins 11/22/2019.